West Taghkanic Diner – Just Off The Taconic Parkway! Ancram NY's Vintage Diner
Posted on: March 3, 2017
address: 1016 NY-82, Ancram, NY 12502
phone: (518) 851-7117
The West Taghkanic Diner in Ancram ( West Taghkanic ) New York is a swell spot to stop if you're driving on the Taconic Parkway. It's practically impossible to miss when you pull off the parkway and onto Old Route 82: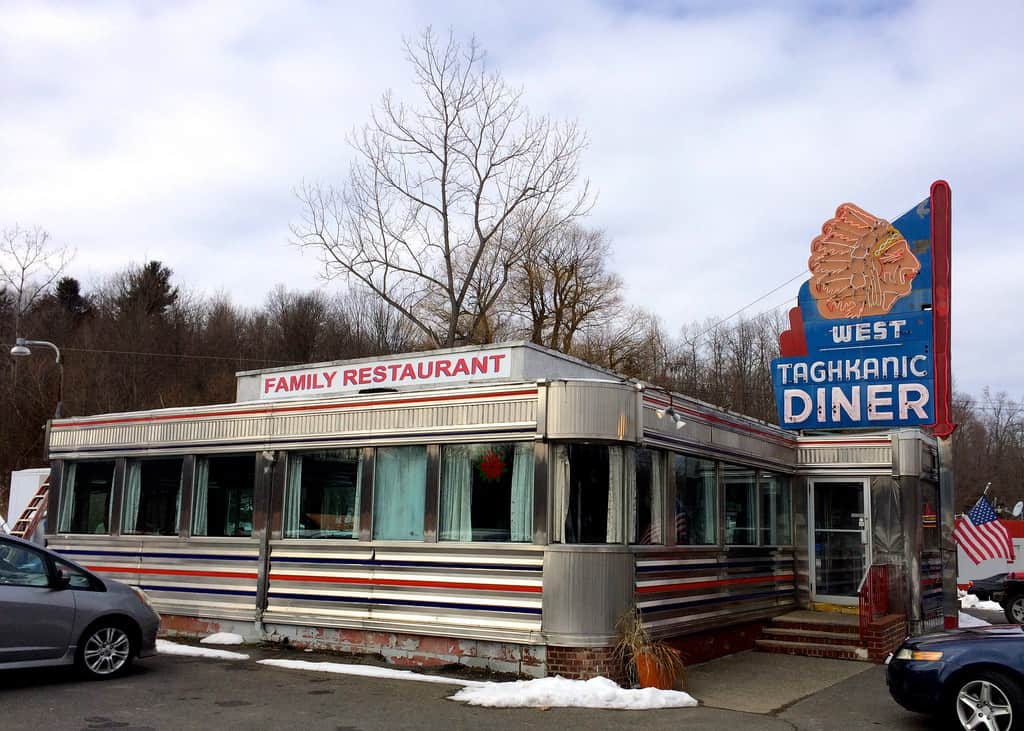 It is thought that the name Taghkanic / Taconic / Taughannock / Taghkanick is derived from the Native American term for "the woods". It may also have been used as an Indian chief's name as well. This is why you see the "Indian Head" on that gorgeous sign that beckons from the distance.
Go to the West Taghkanic Diner Facebook Page to see what this sign looks like with the neon lit up at night!
Built in 1953 by the Mountain View Diner company (Serial # 399 see the tag above the door) it was moved here that same year, and it hasn't changed much since then, thank goodness!
There's still boomerang formica, swivel stools, terrazzo floors, stainless steel for miles, and daily specials on the menu.
Speaking of the menu – full disclaimer – I was not able to grab a bite here because I had just eaten breakfast an hour before at a diner down the road and I was running late for  meeting. But I did pick up a hot tea for myself, and a muffin for Retro Roadhusband (who gobbled it up). Gotta support the local businesses however you can, even if you can't stay to dine.
This diner is a cutie, no matter how you spell it –  so stop by yourself, and let me know how it goes in the comment section below!
West Taghkanic Diner – Just Off The Taconic Parkway!
1016 NY-82, Ancram, NY 12502