2022: Sad to report that Old Sled Works closed on December 31, 2022.
https://www.abc27.com/local-news/old-sled-works-closes-doors-after-30-years-of-service/
Thanks Shannon for the link
ORIGINAL POST:
2019 Update! Jimmy is still going strong at the Sled Works, collecting all sort of antique automobiles, vintage scooters, player pianos and more for your viewing pleasure – stop by and tell him Mod Betty sent you!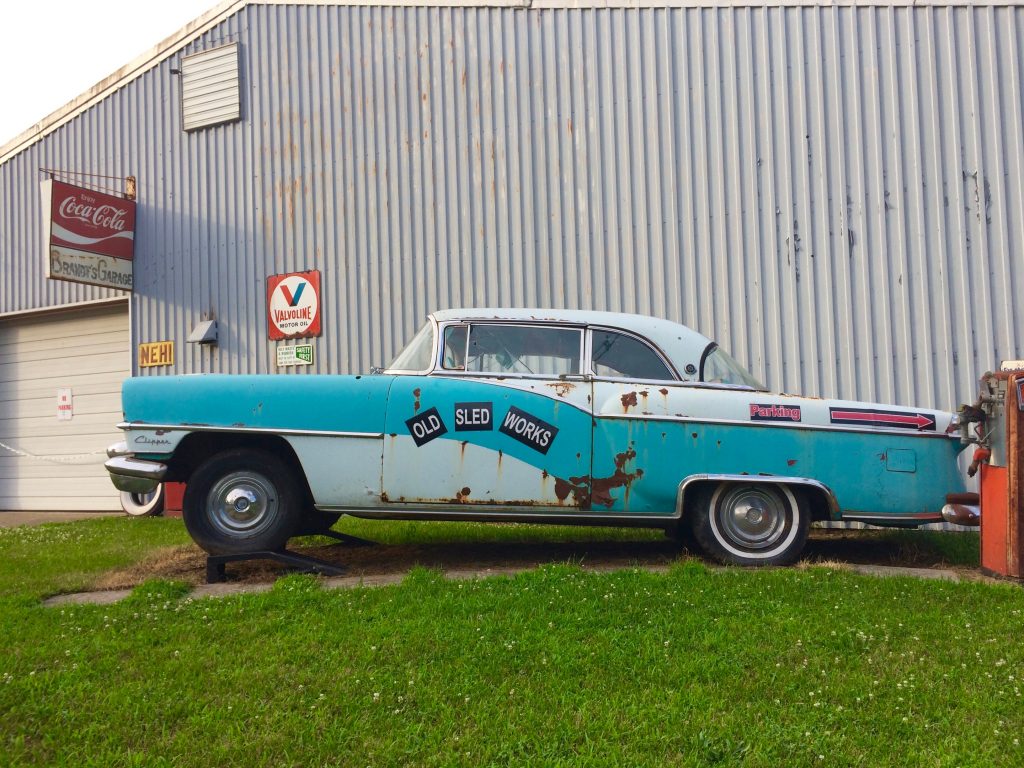 Original 2010 Post:
Located just a few miles from the Red Rabbit drive-in, The Old Sled Works in Duncannon PA is a perfect place to spend a vintage afternoon while digesting your bunny burger. Over 125 antique and craft dealers, an old time arcade and soda fountain, sled museum and more are housed in the factory building that once produced Lightning Guider sleds.

We loved looking around at all the cool old vintage and retro stuff, and no I don't think I ever had the No Cal Shape!

Retro Roadhusband enjoyed playing pinball in the vintage arcade, while I thrilled at all the old timey graphics, signs and ephemera.
At Jimmy's Old-Time Arcade, we have over 50 classic electro-mechanical games from the 1920's-1970's that used to be common at sea-side resorts, amusement parks, boardwalk playlands and other roadside attractions. You'll find vintage cranes, pinballs, shooting galleries, bowlers, movie machines, postcard vendors, etc. Some are even from famous locations like Coney Island and Palisades Park.
Unfortunately Jimmy's Soda Fountain was closed when we were there, but it sure looked cool!

This authentic 1950's fountain was the last operating drugstore counter in Harrisburg, PA. From Bennett's Rexall Pharmacy, it was moved in 1994 to the Old Sled Works where it comes alive most weekends. Select from a few food items and the best milkshakes and floats prepared using vintage equipment. When was the last time you had a real fountain soda? Enjoy your meal while watching several Philco Predicta TV's usually showing The 3 Stooges.
I also was totally smitten with the petite vintage airstream trailer right next to Jimmy's – and peering in the window made me want to live in it immediately.

Before leaving with your purchases, don't forget to pick up a glass bottle of Catawissa soda / tonic. They are only 1 of 8 bottlers left in the US that still wash and reuse bottles. As the sign indicates, they use "orphan" bottles which are returnable bottles from defunct beverage companies. They also make Moxie – talk about a vintage beverage!
You can also climb their forest fire tower for a beautiful view of the Susquehanna river. Formerly known as the Dauphin Water Gap Tower it was a fixture along Rout 22 west of Harrisburg for more than 50 years.


Closed and neglected for the past 30 years, this 110′ tower was right in the path of a highway project and was destined for the scrap yard, but the folks from the Old Sled Works moved it to their parking lot to the site in 1999 and refurbished it for visitors.
So if you want to check out some of the many wonderful things that made the past so swell, a visit to the Old Sled Works in Duncannon is certainly in order!