This 2012 Memorial Day Weekend Sunday, please join me – Mod Betty, at one of the first tiki events ever to be held in the Philadelphia area:
The FREE Luau at the Levitt in Bethlehem PA will be awash in mu-mus,  Mai-Tais and more-  with some great live music. It's not to be missed!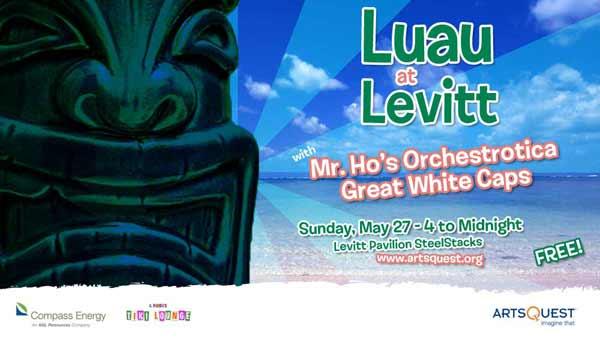 The centerpiece of this polynesian party is the live concert by the 22-piece  Mr. Ho's Orchestrotica  playing the Exotica   "space age bachelor pad" music of Juan Garcia Esquivel.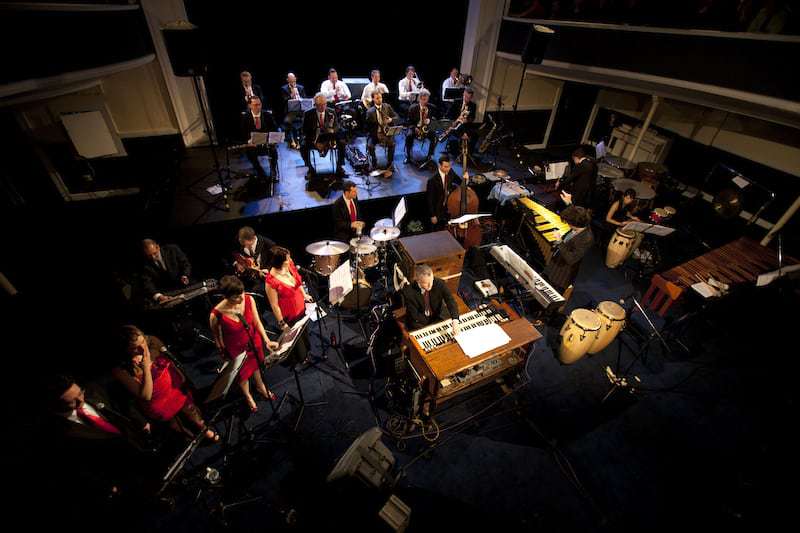 Not sure what "Exotica music" is? If it's instrumental, sounds like the background music in a tiki restaurant, and makes you reach for a rum drink, you're on the right track!
Stop by the A. Panda's Tiki Lounge/Compass Energy tent to say hello and see the vintage inspired fashions created by Whirling Turban, purveyors of couture-quality mid-century vintage style dresses and retro-wear.
Like this Bettie Page inspired wiggle dress!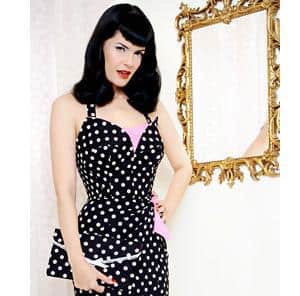 (While Mod Betty does have the wiggle for this dress for sure, I'll be conducting a poll soon to have Retro Roadmap readers decide which one of my many Muu Muus I should wear!)

But there's So Much More!
The Lehigh Valley's own surf band The Great White Caps will be bringing you their unique blend of traditional surf guitar music, garage rock, and good vibes to the Air Products Town Square, right after the Mr. Ho's Orchestrotica show.
There will be  tropical food & drinks including  Blue Hawaiians, Mai-Tais and Piña Coladas,  Kalua Pig roasted pork sandwiches, taro chips, Hawaiian sweet-and-sour meatballs and Haupia Parfaits.
Hula dancers, hawaiian shirt and hula hoop contests, and much more. Hula Hoop Contest! I was just telling my online pal Mr. Tiny that I need to learn how to hula hoop!
It wouldn't be a tiki event without fire!
Ther's a  flaming sculpture in the middle of the town square, which is an actual natural-gas fired piece of steel called The Bridge that pays homage to Bethlehem Steel's industrial past. It's quite the sight when it lights up at night!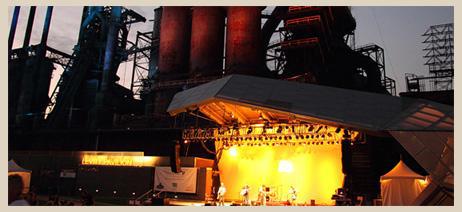 The gas used in The Bridge and all of the SteelStacks campus is provided by Compass Energy, the co-sponsor of Luau at Levitt and the company that keeps the host with the most,  A. Panda gainfully employed, so be sure to say aloha to him when you get there! Mahalo! .
This great event would not be possible without the enthusiasm, coordination and sponsorship from  A.Panda from A.Panda's Tiki Lounge,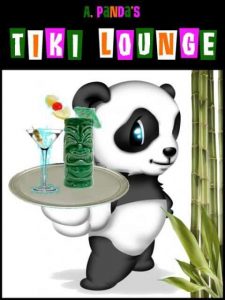 I'm making a special effort to drive all the way from Massachusetts back to Pennsylvania on a holiday weekend to attend this once-in-a-lifetime-opportunity event, so there's no excuse for all of you tri-state (and beyond) tikiphiles and Retro Roadmap Readers not to join A.Panda and me- see you there~!