The Midwest Family Traveler has shared a few fun photos from the Wisconsin Dells, making this vacation destination the first Wisconsin entry on Retro Roadmap!
Wisconsin Dells has been a tourist spot for well over 100 years, with the original draw being the scenic gorge and sandstone formations along the banks of the Wisconsin River. While now it boasts as being the Water Park Capital of the World, a quick Flickr Image Search reveals that there are still some vintage signs and evidence of retro vacation fun still worth snapping photos of, like this swell neon Holiday Motel sign. So on the map it goes, for snapshots at least!
Midwest Family Traveler writes:
I love this shot of the dinosaur at this Sinclair gas station:

(Now I had been under the impression that Sinclair gas stations had gone the way of the dino, as I have never seen one in my travels – tho I remember their iconic green dinosaur fondly  as I had a green plastic bank in the shape of one, and the children's area of the library in the town I grew up in had one of their sparkly green dinos on top of the book cases. And now of course I want one for our yard 😉 I now know that Sinclair is still around in about 22 states – and as you can tell, they've been smart enough to keep their eye-catching prehistoric pal as a calling card!
Midwest Family Traveler also included some snaps of some modern muffler me!
Here's another spot in Wisconsin Dells, Wisconsin. It's the muffler man outside of Paul Bunyan's Restaurant. I love finding these muffler men as we travel – they are totally vintage and just make you feel like you should be cruising the road in an old Bel Air. 🙂

(Here's an article from the MFT with some history on Muffler Men – both modern and vintage)
 This one is located outside of Buffalo Phil's Restaurant and Arcade in Wisconsin Dells. Right down the road from the Sinclair dinosaur.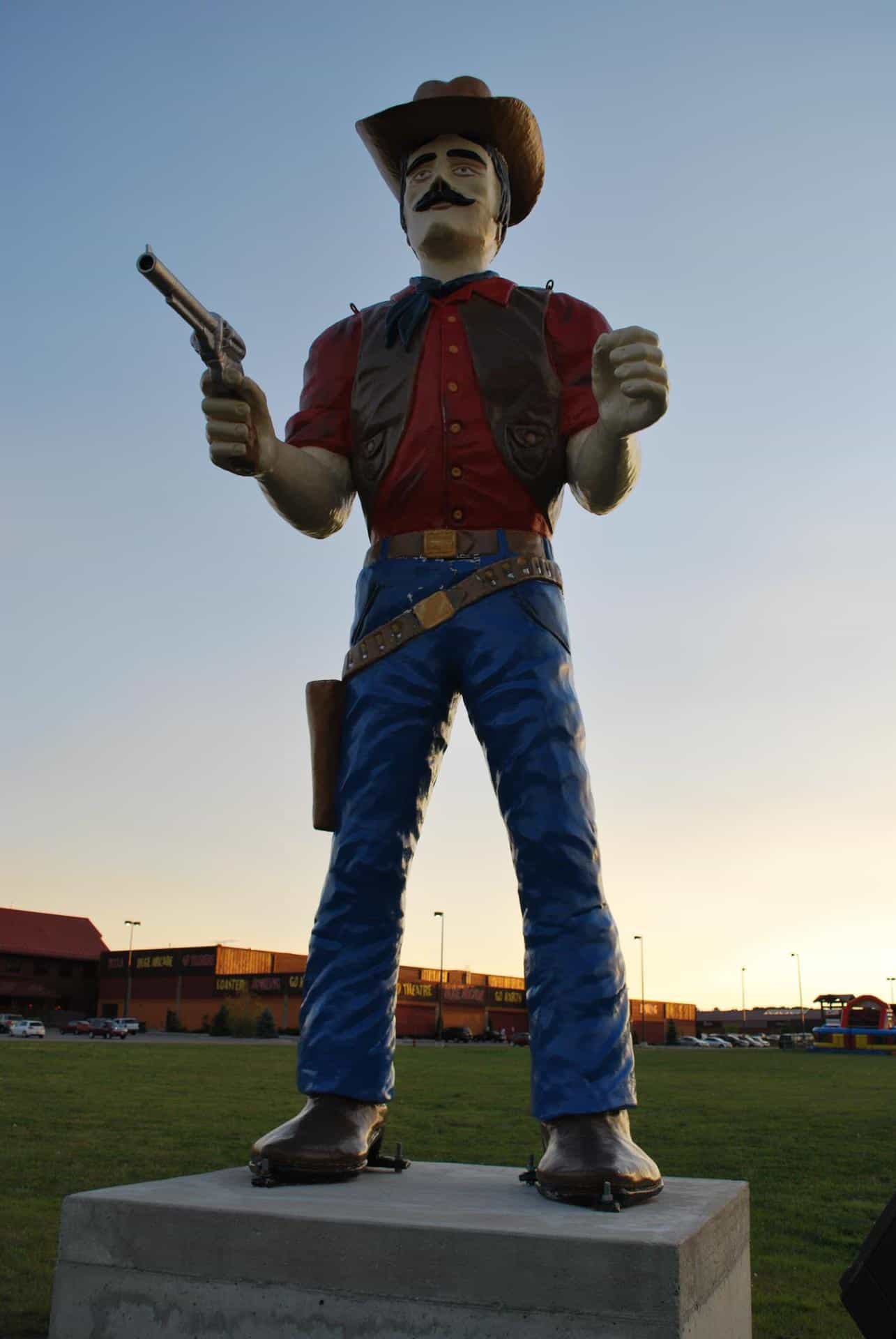 So there you have it! The Dells may be a bit big and commercial now, but if you're in the area,  you may be able to take a vintage snapshot or two.
The Wisconsin Dells

View WI – Wisconsin Retro RoadMAP in a larger map