Blogging Brings People Together – Just Ask Mod Betty!
Posted on: December 26, 2012
If ever anyone says that the internet is making people more reclusive and isolated, all they need to do to see the other side of that coin is to check out our adventures this past year. As a somewhat shy introvert Mod Betty is here to tell you – it's amazing what a few emails back and forth will produce – new friends and compatriots all over the place. – making it a smaller cooler world for all!
Here are just some of the swell folks we met this year, simply because of Retro Roadmap – blogging, Twitter, Facebook, email, it all helps people connect:
Rick Kilby of Old Florida
We met Rick Kilby down in Florida, when he was kind enough to be host-with-the-most, escorting us to the Monument of the States AND the Tupperware museum!
He's putting out a book in 2013 and is the mastermind behind the great FB page Old Florida. So nice to meet you Rick!
Charles Phoenix – Slideshow Host!
One of the BIG THRILLS of life for me in 2012 was to actually meet – in person – THE one and only Charles Phoenix!
Mod Betty and Retro Roadhusband have been big fans of his books, slideshows and love of vintage Americana, and knew that the magic of Hollywood was on our side when he agreed to meet up with us at the Los Angeles Farmers Market. I can't say enough about the swell time we had- from the personal tour of the market he gave us, to the chatting about blogging, to the advice to Mod B to get in front of the camera ;-)! Such a Retro Roadmap inspiration, we can't wait to see Charles again!
Allee Willis – Kitschspirational!
Speaking of Inspirational, when the fabulously creative, kitschy and talented Allee Willis agreed to meet up with us on our trip out to Los Angeles, we were floored. And the fact that she invited us into her very own Willis Mansion was a dream come true!
Again, Allee is an inspirational figure in Mod B's life – from having the biggest collection of kitsch in the world, to being a hit songwriter, to hostessing fab parties, to having the confidence to pursue her creative ideas, Mod B genuflects at her purple naugahyde throne. If you see Mod B wearing lipstick so she wont look like a corpse, it's all because of Allee Willis!
 Mr. Tiny of Wacky Tacky
Again on the west coast, meeting Mr. Tiny and his talented Sister Mary was a fab time- and the fact that we met in the soda fountain used in That Thing You Do made it even more memorable!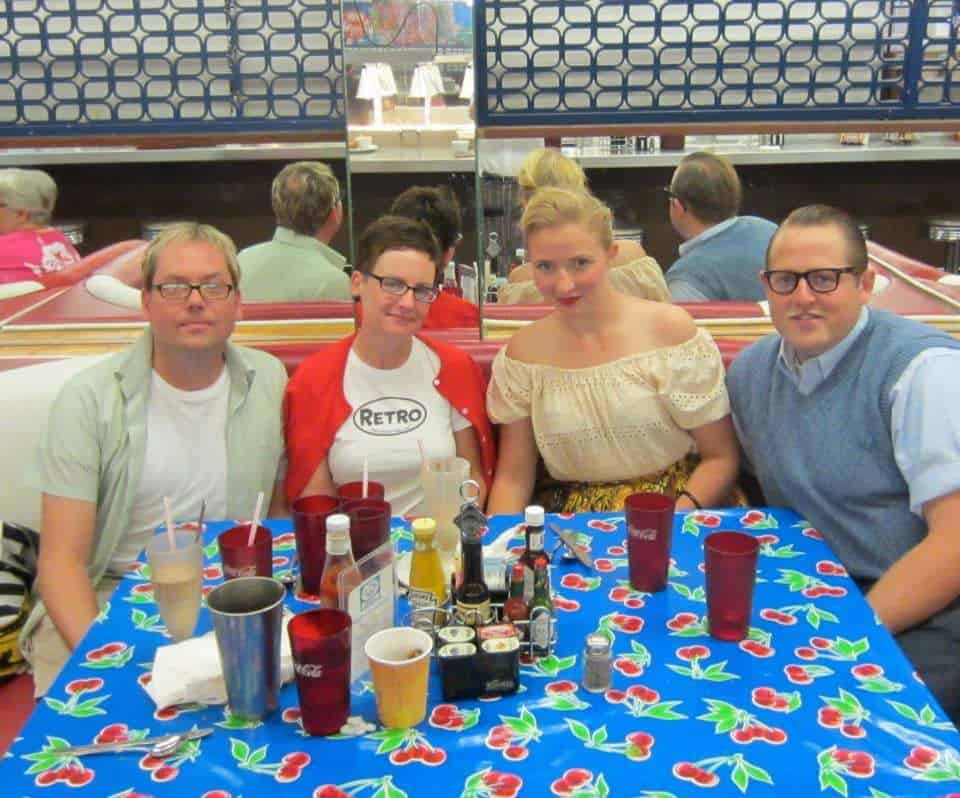 Mr. T is a kindred spirit when it comes to Retro Americana and fun, traveling out of the way to appreciate the lighting fixtures and lunch counters in vintage bowling alleys, coffee shops and vintage businesses in Southern California. Both he and Mary – were absolute dolls to meet up with, and again, I consider myself a lucky gal to have been able to get to know them!
Fuzzie Lizzie the Vintage Traveler
Fuzzie Lizzie and I have been Retro Roamdap pen pals for the past few years, and she's my go-to resource for vintage clothing history and info. So when we realized we were going to be close to her neck of the woods on our travels from Atlanta to PA, it was great to meet up with her in person!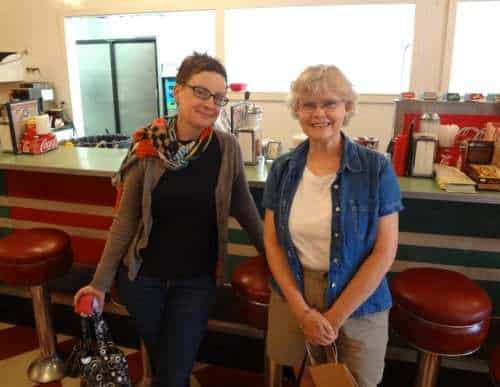 We shared a lunch of grilled pimento cheese and tomato sandwiches at a retro-inspired soda fountain in Brevard NC, a Retro Roadmap worthy town in itself!
The First Retro Roadmap Roundup!
As you can see, by this time of the year I had caught the bug, and knew how much fun it was to meet up with like-minded folks, so I organized the first – but not the last Retro Roadmap Roundup. Retro Roadmap readers and fellow bloggers alike invaded Sine's 5 & 10 where we ate at the lunch counter and cash mobbed, while connecting and snapping photos.
Don't we look great in the photo above? That's Rachael from FuzzyGalore, Wendy Vee from Roadside Wonders and Gunner J from Eccentric Roadside along with yours truly! A fun time was had by all, and look for more Retro Roadmap Roundups in 2013.
A.Panda's Tiki Lounge
When we discovered a fellow tiki-phone and Shag art lover was living within an hour of Retro Roadmap HQ, we hopped in the Retro Roamdap mobile and met up with Andy Montero from A. Panda's Tiki Lounge.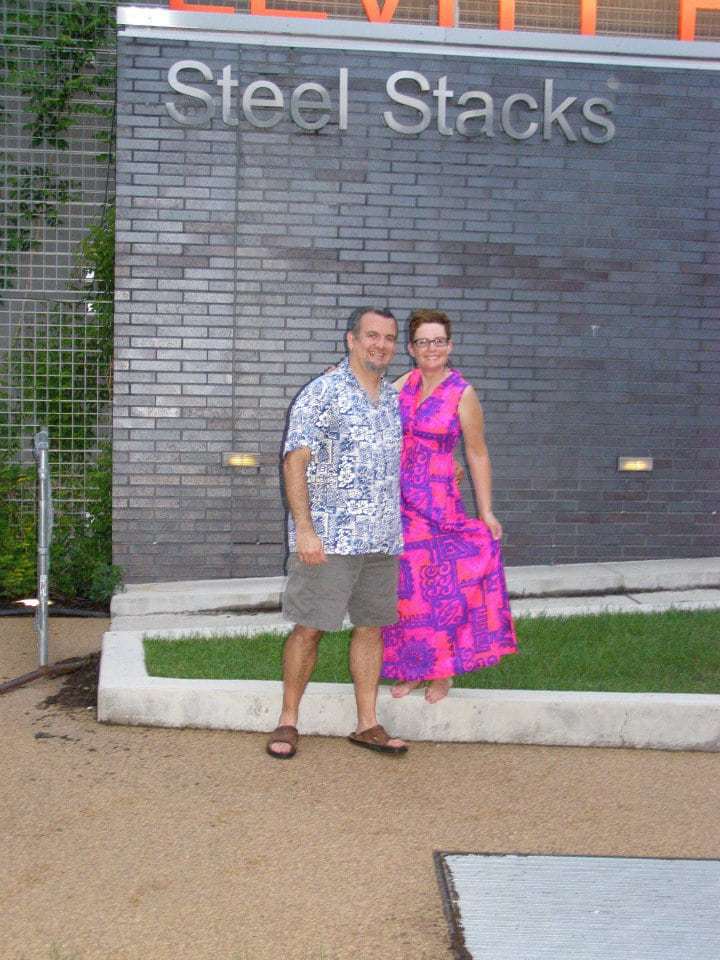 The mastermind behind bringing Mr. Ho's 22 piece Esquivel inspired Orchestrotica to the Steelstacks of Bethlehem PA, Mod B was only too happy to bring out one of her vintage muu-muu's to toast such an occasion! So glad to consider AP part of the Retro Roadmap ohana.
StacyVerb!
And how's this one for a connection – Stacy of StacyVerb and I met through neighbors of ours, that she hasn't even met yet!
Our swell pals knew we'd get along, so when we were in Atlanta, I gave her a buzz and she came to one of Retro Roadhusband's gigs! Swell gal, that Stacy!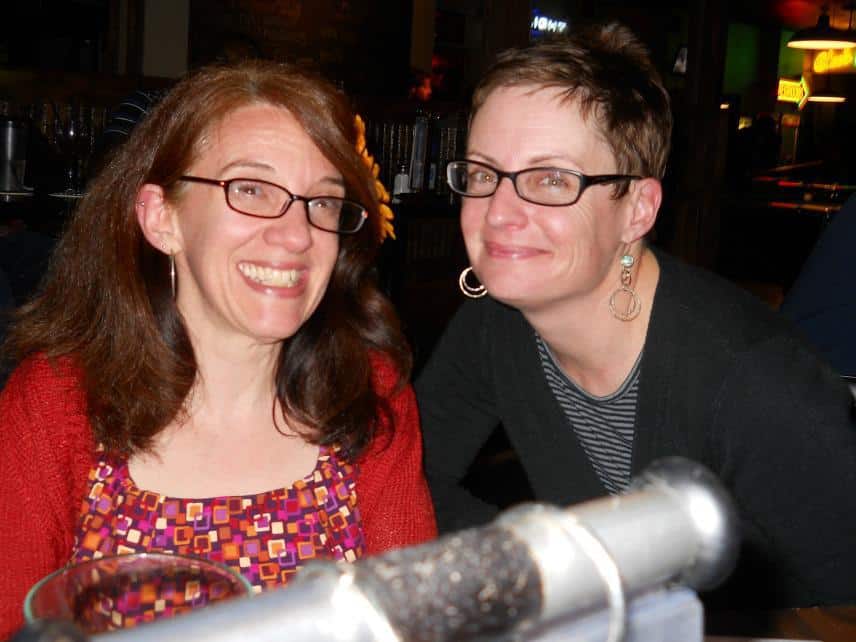 International Retro Roadpals!
2012 was the year Retro Roadmap went global, helping to plan Retro roadstops for both UK and Australian folks eager to experience the authentic American Roadside and all it's glory!
We meet up with Claire from  The Doodologist and her US hostess Linda the Distracted Wanderer at Jimmy's Lunch in Hazleton PA, and Mod Betty was glad to know she's not the only blogger who can be reluctant to appear in front of the camera 🙂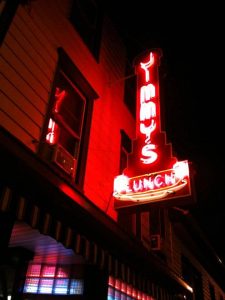 I was so happy that we were able to meet up with Claire and Linda, especially because we actually came to their rescue, when their traveling pal Jenn had an unexpected trip to the emergency room! We hustled our butts up north as quick as we could, and Retro Roadhusband saved the day by driving Jenn's car to the safety of their motel!
A Retro Roadmap Roadtrip = International Engagement!
And while schedules didn't allow us to actually meet up, I was tickled vintage pink to help out Australian pals Lee and Holly plan their USA Retro Roadtrip. And now I can let the cat out of the bag – THEY GOT ENGAGED TO BE MARRIED while on their cross country journey across the US!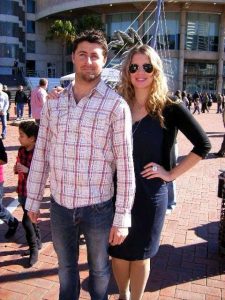 I was so excited to help plan some of the Retro Roadmap worthy stops for Lee and Holly, and cheered when I heard that the engagement went off without a hitch. Best of luck to them both, and I hope we get to meet up officially someday, someway!
Marshall Crenshaw!
And speaking of Someday, Someway- if it weren't for Mod Betty wanting to check out what breakfast was like at the Polish Club here in town, we never would have had breakfast with our fave songwriter Marshall Crenshaw!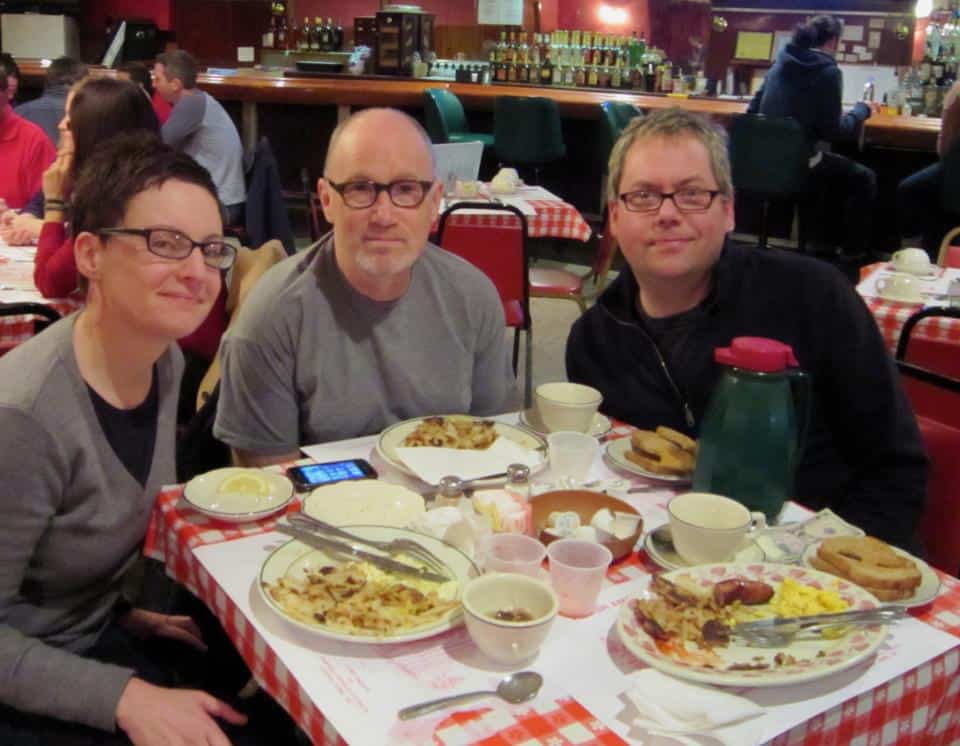 I was a bit mortified when I learned that Retro Roadhusband (who had opened for Marshall at his gig here in town) had invited MC to come to breakfast with us, since it wasn't a fancy place. But Marshall insisted he was intrigued by the notion, and shared eggs and scrapple (RRH ordered it of course) with us at the local Polish-American Club. Gotta love the excuse to dine with the famous!
We've made more connections and friends than we ever would have imagined this past year, and look forward to even more meetups, roundups, gatherings, breakfasts, connections, and community building in the year to come! And it's all thanks to blogging, social media, and Retro Roadmap!
Edited to add: Ever since I wrote this post I've had this song going through my head – because I think it's so groovy now that people are finally getting together 🙂