Fun Give Away – Join The Retro Roadmap Mailing List [Free Stuff! Who Doesn't Love That?]
Posted on: August 1, 2014
Howdy Retro Roadmap Readers!
Mod Betty is trying to wrangle together all of the places she can get in touch with folks – some of you are on FB, some of you email me, some of you are part of the Kickstarter mailing list – you're all in different places!
So, with your permission of course, I'd like to have as many of you all on the Retro Roadmap mailing list – and am giving away some cool stuff to encourage you to sign up. (And don't worry, I'll never use the mailing list for spam, or sell it or anything like that – swearsies.)
Enter the Retro Roadmap Mailing List Contest!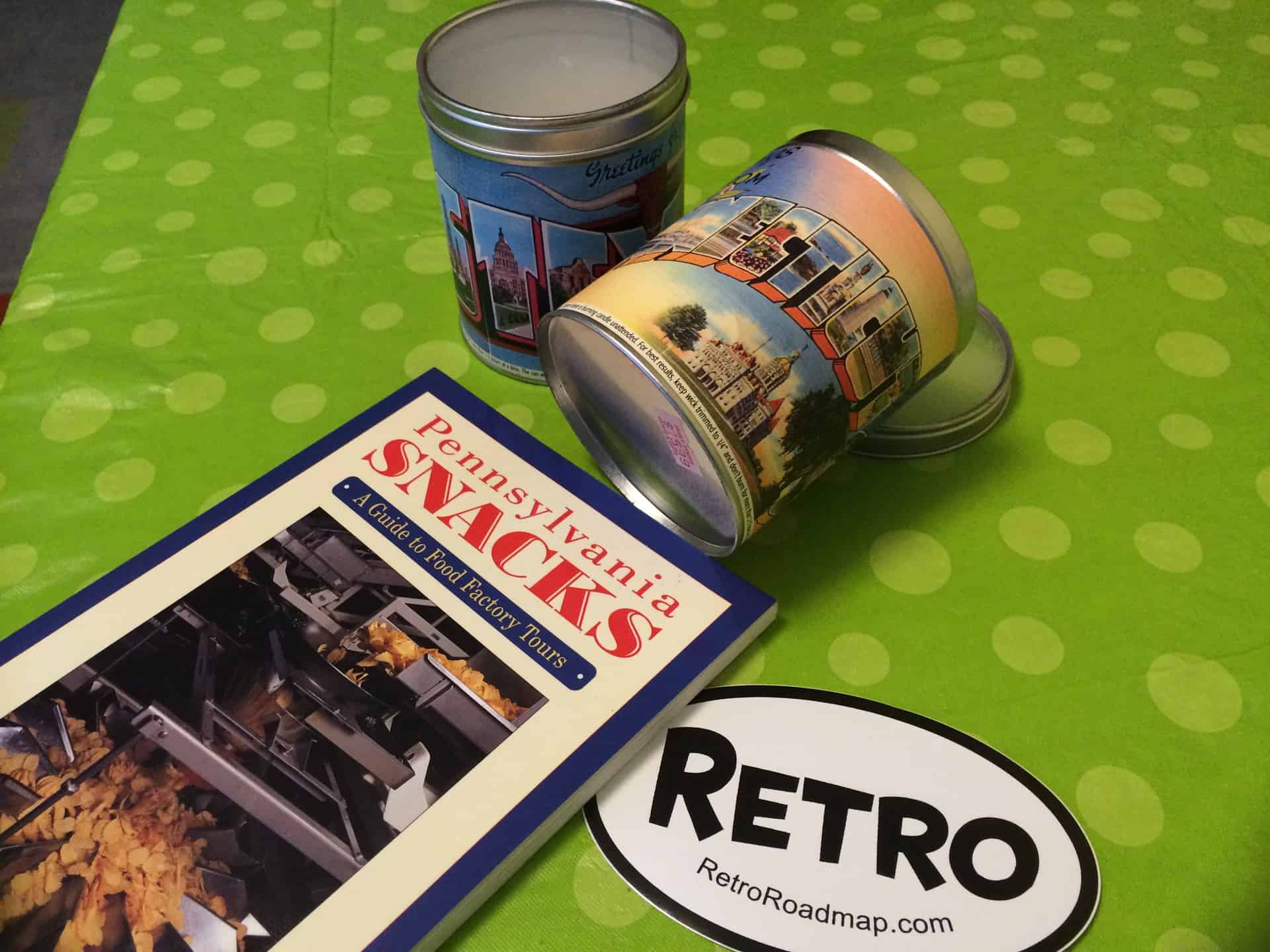 There will be two lucky random people drawn from the list of everyone on the mailing list and here are the prizes!
The Prizes!

1. Pennsylvania Snacks – A Guide to Food Factory Tours by Sharon Hernes Silverman
This book is so awesome that I somehow ended up with two copies! Glad to share the story of the snacks I'm in love with here in PA with one of you lucky readers
2. A limited edition Aunt Sadie's Candle with vintage travel postcard graphics of your choice – Texas or Connecticut!
I have loved Aunt Sadie's Candles ever since I worked in the South End of Boston way back in the late 90s (yikes time flies!) They had the most awesome shop, decorated and merchandised to a T and more great products to covet. At Christmas they even had a gal play carols on a piano in the middle of the store. My, it was grand! Now they've moved up to Vermont, but they haven't stopped making their great "Can"dles – and these vintage travelgraphic ones are great – once you burn 'em down you can remove the excess wax and use them for pencil holders – just like Mod Betty does!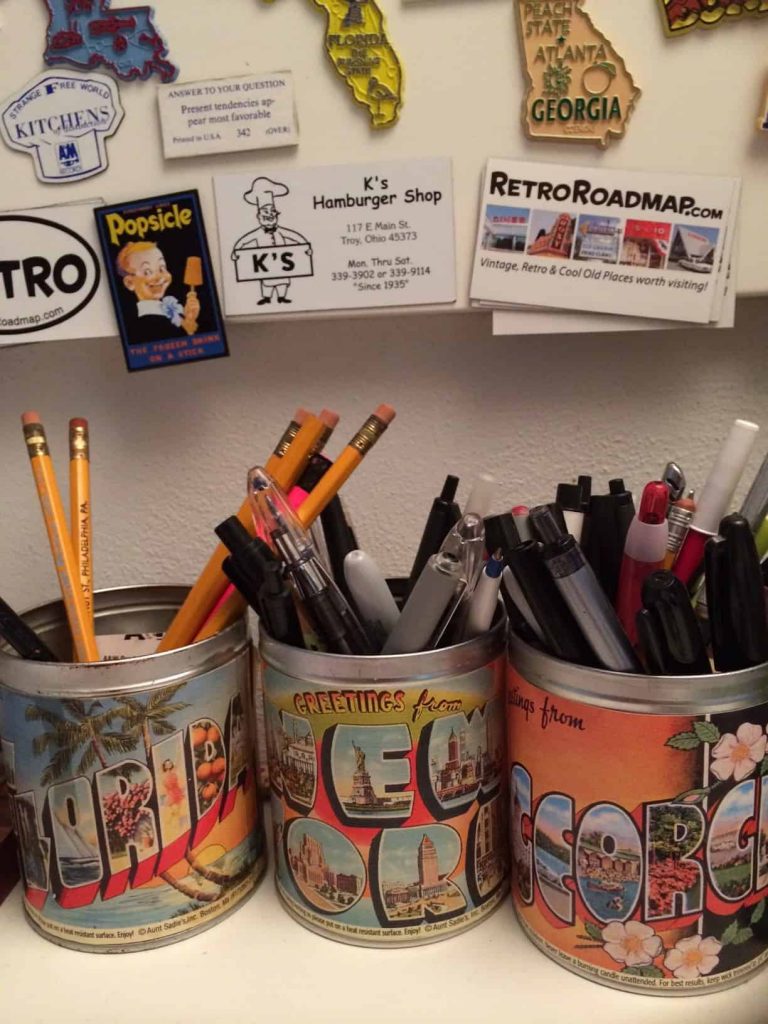 HOW DO I ENTER TO WIN?
As my pal Kelly from the Velveteen Lounge would say…
ALL YOU DO IS….
Go to the bottom of the page at RetroRoadmap.com – there you'll see a field to Join the newsletter: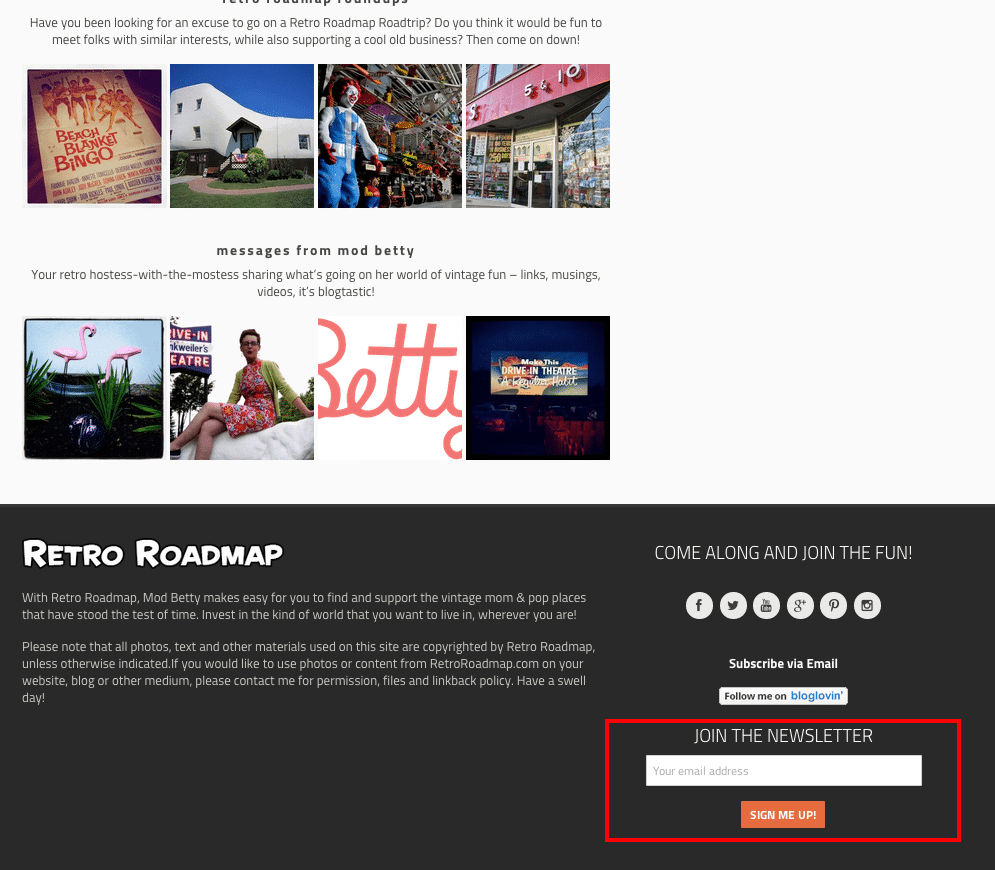 Enter your email address, hit submit, confirm and voila!  A few more easy peasy steps and you'll be on the mailing list and entered into the drawing.
I want to give everyone the weekend to sign up, so I'll be picking the winners Sunday night.
Don't delay, sign up today! You just may be the winner!
XO
Mod B