Retro Roadmap Meetup – Sunday March 15, 2015
Starting at 12:30pm we'll take a tour of the historic Colonial Theatre (built in 1903) in beautiful downtown Phoenixville PA, then watch "The Quiet Man" starring John Wayne and Maureen O'Hara on the big screen at 2pm!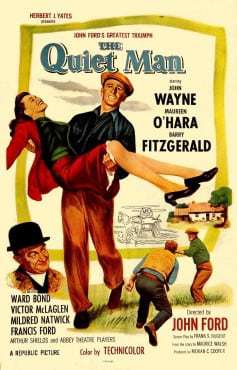 "John Wayne plays an American prizefighter who travels back to Innisfree, Ireland, where he was born, and falls for spirited lass Maureen O'Hara (at her red-haired peak of loveliness), only to have to contend with the disapproval of Maureens brutish, pugnacious brother"
Besides winning Oscars for John Ford and for the exquisite color cinematography, "The Quiet Man" was nominated for Best Picture, Best Screenplay, Best Art Direction, Best Sound and Best Supporting Actor.
Feeling in the St. Pats mood after the movie? We can swing by one of the local Phoenixville pubs for a pint after the show!
Please note!
The tour of the historic theatre is part of the regular programming at The Colonial – so in order to attend the tour, you will need to RSVP to them by calling 610-917-1228 so they can make sure to have enough tour guides on-hand. (Please RSVP here at the Retro Roadmap Meetup Page too, so I can know to expect you :-))
If you prefer to just go to the movie, we'll be meeting in the lobby at 1:45pm.
Tickets to the movie are an affordable $5 if you're a member of the theatre (click here to join today – shameless plug! :-))
$9.00 Regular Adult Admission
$7.00 Seniors (62+) & Students
You can buy your tickets at the box office after the tour
Sound like fun? See you there!
Mod Betty