Mod Betty is wicked excited to get in the Mad Men mood with the fine gals at Mod House Vintage and Lulu Boutique & Gifterie both located in downtown Phoenixville.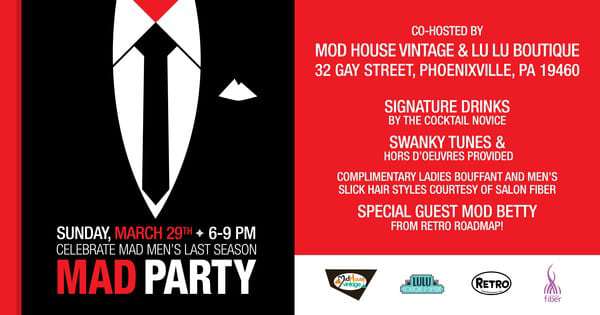 The Meetup will be at Mod House Vintage ( 32 Gay Street, Phoenixville) from 6-9 on Sunday March 29 
(This is the Sunday BEFORE the first Mad Men episode of the season, as you know that night we'll all be glued to our vintage TV sets catching up with Don Draper!)
Dress up in your swankiest vintage cocktail-wear for a night of vintage inspired Mad Men fun!
Don't have era-appropriate to wear? Don't sweat it! Lulu Boutique will be in the house with a fabulous selection of vintage fashions.
The Fun Includes:
• Signature Drinks from TheCocktail Novice
• Swanky Tunes and hors d'oeuvres provided
• Complimentary Ladies Bouffant and Men's Slick Hair Styles courtesy of Salon Fiber
And of course you'll be able to pick up the perfect addition to your mod pad at Mod House!

Sound like fun?