Mod Betty knows the importance of fighting the good fight and helping to save Authentic Vintage Businesses everywhere, so she was thrilled when asked to chime in on the newly created and rapidly growing #SaveNYC campaign.
AMNewYork contacted Mod B, who, while not a NYC resident, still has strong feelings for the city, and how changes to it affect her interest in visiting and spending her vacation dollars there.
As part of their #SaveNYC online campaign fights to preserve New York's disappearing mom-and-pops article, she is quoted:
"Why would I bother going to New York if I get the same experience I get anywhere in the USA?"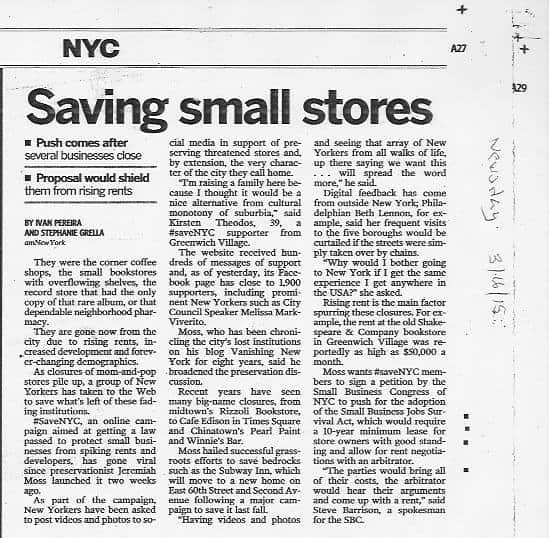 And in turn, folks, why would people visit ANYWHERE in the US, if it looks like everywhere else in the USA?
This is why we have to fight the good fight to keep cool old businesses open, and ensure at every step that the country does not get rolled over with a steamroller of chain store to chain store, from sea to shining sea! And it isn't difficult, and it is FUN! 
Eat at an independent diner, buy your goods at an independent store.
Photograph cool old places and give them some free publicity on the interwebs so more people go to visit them.
Tell owners of businesses that have that great authentic charm and signage that we love so much, how much you appreciate their hard work in preserving the legacy, instead of stucco and plasticking over in an attempt to modernify.
Even though I long for the day of winning the lottery so I can play "Real Life Sized Monopoly" (buying up cool vintage motels hotels and saving small businesses as if they were red and green cubes) I am not waiting until then to do my part, and neither should you!
Every penny is important, 5 equal a nickel, 100 equal a dollar – so each individual, like a penny — like YOU – can make a difference.
Are you a part of the solution or are you part of the problem? Be a part of the solution!
xo
Mod B