It happened quite unexpectedly, one day my son asked me a question that shocked and befuddled me, he asked,
"Dad, can we go fishing?"
The request came out of nowhere. My Los Angeles-born boy had never expressed any interest in fishing before.But I guess that is the natural part of a boy growing up.
When I was a kid, we fished all the time. After all I lived on the water, not land locked living in the Southern California's San Fernado Valley.
"Sure" I said, wondering how the heck I was going to make his request come true. That is when I discovered a magical place called Troutdale.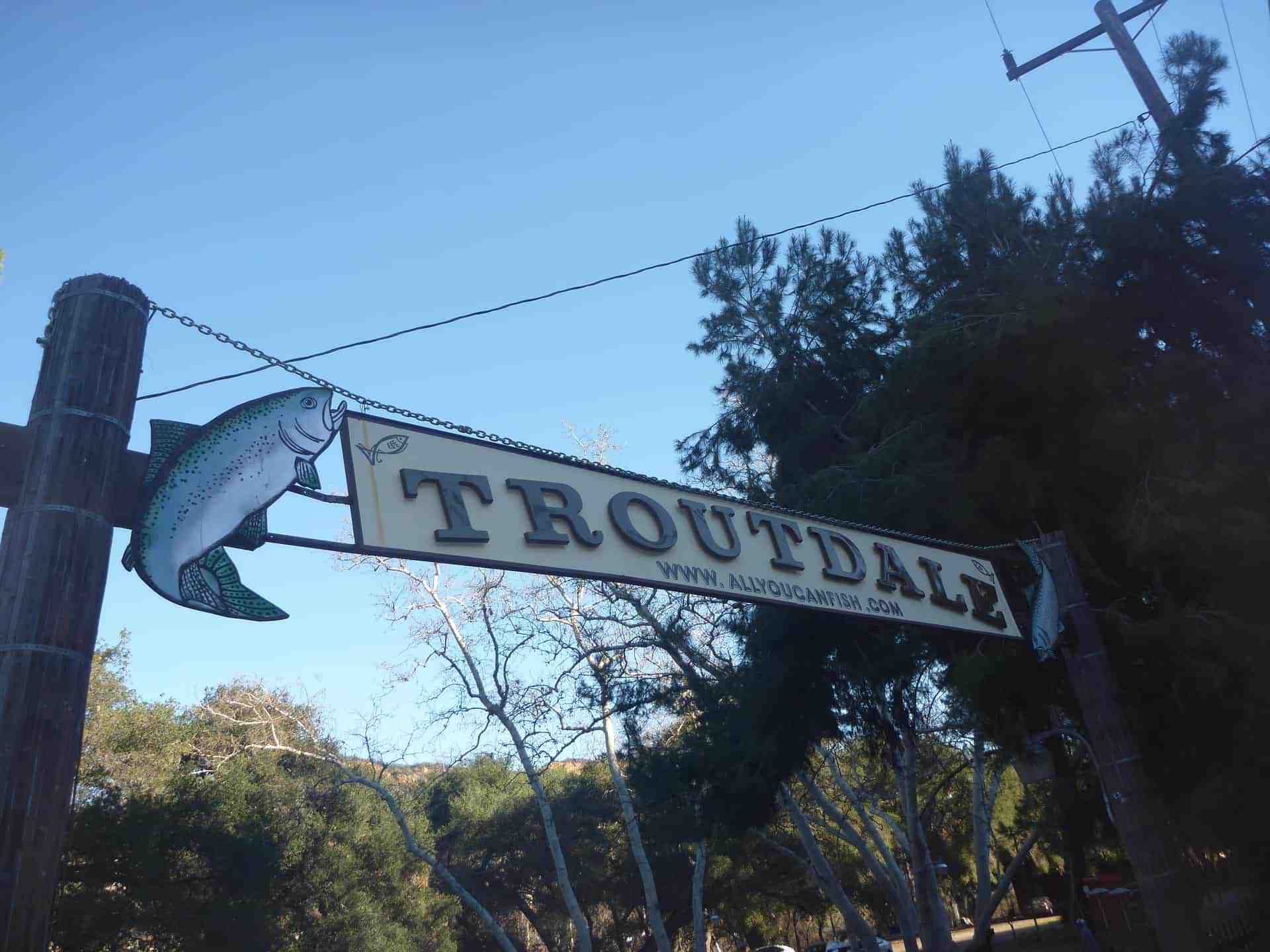 Located just a few miles from the majestic beaches and million dollar homes of the rich and famous in Malibu, California, the tiny fishing hole has been a oasis for folks looking for an old timey experience that involves edible sea life since 1965. ( I know, Trout doesn't live in the sea.)

The place really is frozen in time. Nothing fancy. Just 2 fishing ponds and a series of tiny huts and one bait shack. Admission is just $7.00 per person. And that is if you are fishing or not. No Lookee Loos!
For that low price you get a bamboo pole, bucket, corn for bait and license. I had to kick in an extra $5.00 for worms. (sold inside the bait shop) to try and get things going.
You half expect to hear the theme from the "Andy Griffith Show" being whistled as you sit there by the shady pond waiting for they fish to bite. And wait. And wait. Patience is a virtue when it comes to fishing. Sadly, patience is the one thing a seven year old doesn't have. After about 45 minutes me son was ready to leave.
We didn't catch a trout. Even though several folks around us did. But that was okay by him.
"This was fun. Even if we the fish didn't like us."
Actually, not catching a trout was actually a good thing for us. My son and I are both allergic to seafood and had we caught a fish we would have been faced with a dilemma. What to do with the fish?
Troutdale does not allow catch and release. They charge you a steep fine ($20.00) if you set your Trout free. I guess after we had paid for it (fees based on size of fish range from $6.00 to $11.00) we would have given it away to another fisherman.
But it was worth the $7.00 each just to carry on the age-old tradition of fishing. If only for an hour out of our busy day.
Celebs including Mark Walberg, Adam Sandler, UFC fighter Chuck Liddell, and rockers Gwen Stefani (and husband Gavin from Bush) have all visited Troutdale with their kids. And so should you.
It is a unique "Stop and smell the roses" experience we need more of in our busy days.
Only you smell trout!