---
Want to discover ALL of Mod Betty's favorite Retro Roadmap -worthy places in South Jersey?
---
Wildwood Vintage / Tiki Weekend 2016!
The Caribbean Motel – Wildwood, NJ – Friday May 13-Sunday May 15, 2016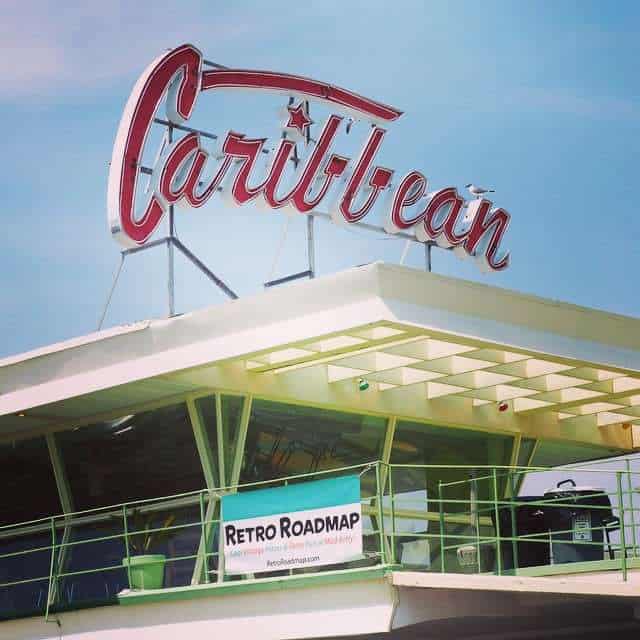 Aloha, Retro Roadmappers!
Rooms are now available for the Wildwood Vintage / Tiki Weekend
at Wildwood's Most Mid-Century-Marvelous Motel – The Caribbean!
You remember Wildwood, right? We did a fun video there – watch below and catch the excitement!
We're finalizing the Weekend's details, but here's a peek of what you have to look forward to:
A special

Friday

night welcome reception at the Doo Wop Experience, the retro museum of Wildwood, with drinks, nibbles and photo ops galore!
Explore all Wildwood has to offer, on your own or as part of the virtual scavenger hunt! Use clues to "collect" places, then post to Instagram or Facebook with a hashtag. Be the first to post 'em all and win a prize!
Vintage Vending! Have some vintage/retro items you want to sell? Display 'em in your room's picture window and share with your newfound tiki pals!
Tiki /Surf/Lounge/Exotica Happy Hour music with Blanko Dave of the Thrifty Discount DJs  spinning vintage vinyl!
Ramp Walk Fashion Show – Walk the Levitating Runway and show off your fave vintage/tiki ensemble!
Hawaiian Dinner including succulent ham, veggies and homemade pineapple bread pudding by the Caribbean's own Chef Ron!
Twisting poolside under the Plastic Palms, Limbo Contest, Shuffleboard and more!
The weekend is only open to guests of this vintage 30-room motel, so book your rooms now if you want to meet like-minded vintage / tiki folks and have some retro fun in South Jersey's 1950s destination, Wildwood!
Want to see what kind of fun we had last year? Click here for a gaggle of colorful photos! 
Rates start at just $104/night per couple and include all the fun above.
Want to join in? Contact Margie at the Caribbean Motel and book your room today! 
Call: 609-522-8292
Email: [email protected]
See you there! XO Mod Betty