Mod Betty is excited to share info about the dedication event coming up this Saturday, for a Philadelphia mural commemorating entertainment legends from Philly that we hold near and dear to our hearts!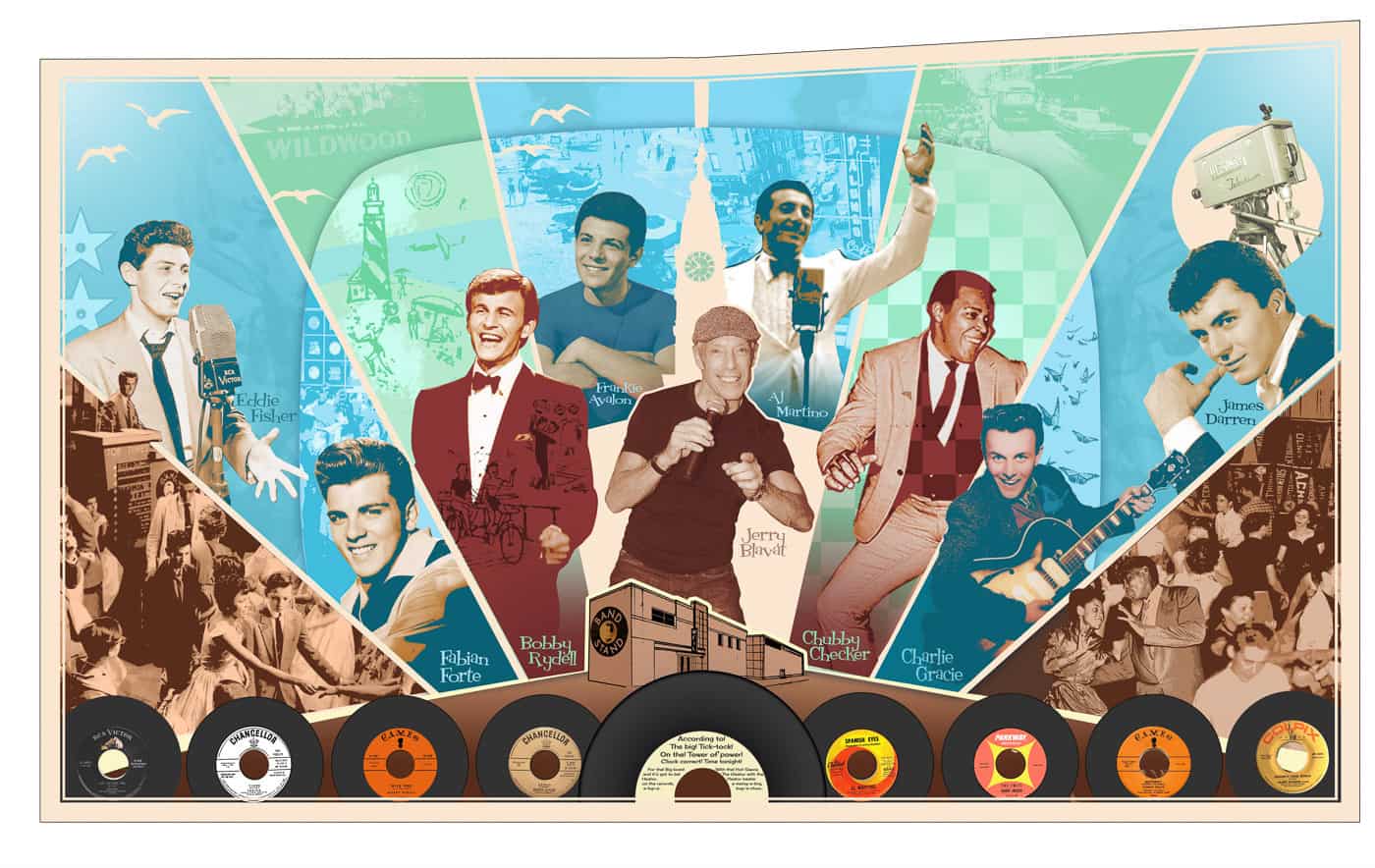 I hope to see you on Saturday October 15th between 2 and 4:30pm at the corner of Broad and Tasker streets in Philadelphia, PA to celebrate this latest work from Mural Arts Philadelphia.
There will be music DJed, a live brass band AND a few of the folks who are on the mural are scheduled to be in attendance!
Who are those swell fellows on the mural? From left to right in the photo above we have :
Eddie Fisher, Fabian Forte, Bobby Rydell, Frankie Avalon, Jerry Blavat, Al Martino, Chubby Checker, Charlie Gracie, James Darren and Danny Cedrone.
(all these are linked to their Wikipedia pages in case you're not familiar with any of them)
These famous folks are all from Philadelphia, and all played an integral part in the entertainment coming out of "Bandstand era" Philadelphia. (While many people may have watched American Bandstand as a weekly show from L.A., Bandstand actually originated and was broadcast from Philadelphia from roughly 1952 to 1964.)
Artist's rendering of what the mural will look like when it is completed.
We have a personal connection to this mural here at Retro Roadmap, as we were lucky enough to be part of the creation of it:
One sweltering day this past August we joined our pals Todd and Kristin from The Grand Review and helped paint a segment of the mural, designed by artist Eric Okdeh, who was also in attendance.
There were a lot of local folks participating in this giant "paint-by-numbers" event, and it was a lot of fun!
We were assigned a section of the mural that we figured out to be Eddie Fishers pinkie:
Armed with plastic bibs ("Where's the lobstah?" cried New Englander Mod Betty ;-)) and little cups of paint, we gabbed and dabbed and before we knew it our section was done. (Gabbing and dabbing, you can tell I've been listening to the Geator too much!)

We only had one casualty – Retro Roadhusband, who went all punk rock with blue hair:

Before we left our pals posed for a photo with the artist Eric himself:

And we all look forward to seeing our HANDywork (see what I did there? ;-)) on Saturday!
Here's a link to the Facebook event if you're so inclined
See you there!
Philadelphia Music Mural Dedication
Saturday October 15, 2016
2-4:30pm
1532 Broad Street
Philadelphia, PA