Art Deco Dining at The 11th Street Diner – Miami Beach FL
Posted on: December 19, 2016
address: 1065 Washington Ave, Miami Beach, FL 33139
phone: (305) 534-6373
Leave it to Mod Betty to end up eating at a Pennsylvania diner when visiting Miami Beach!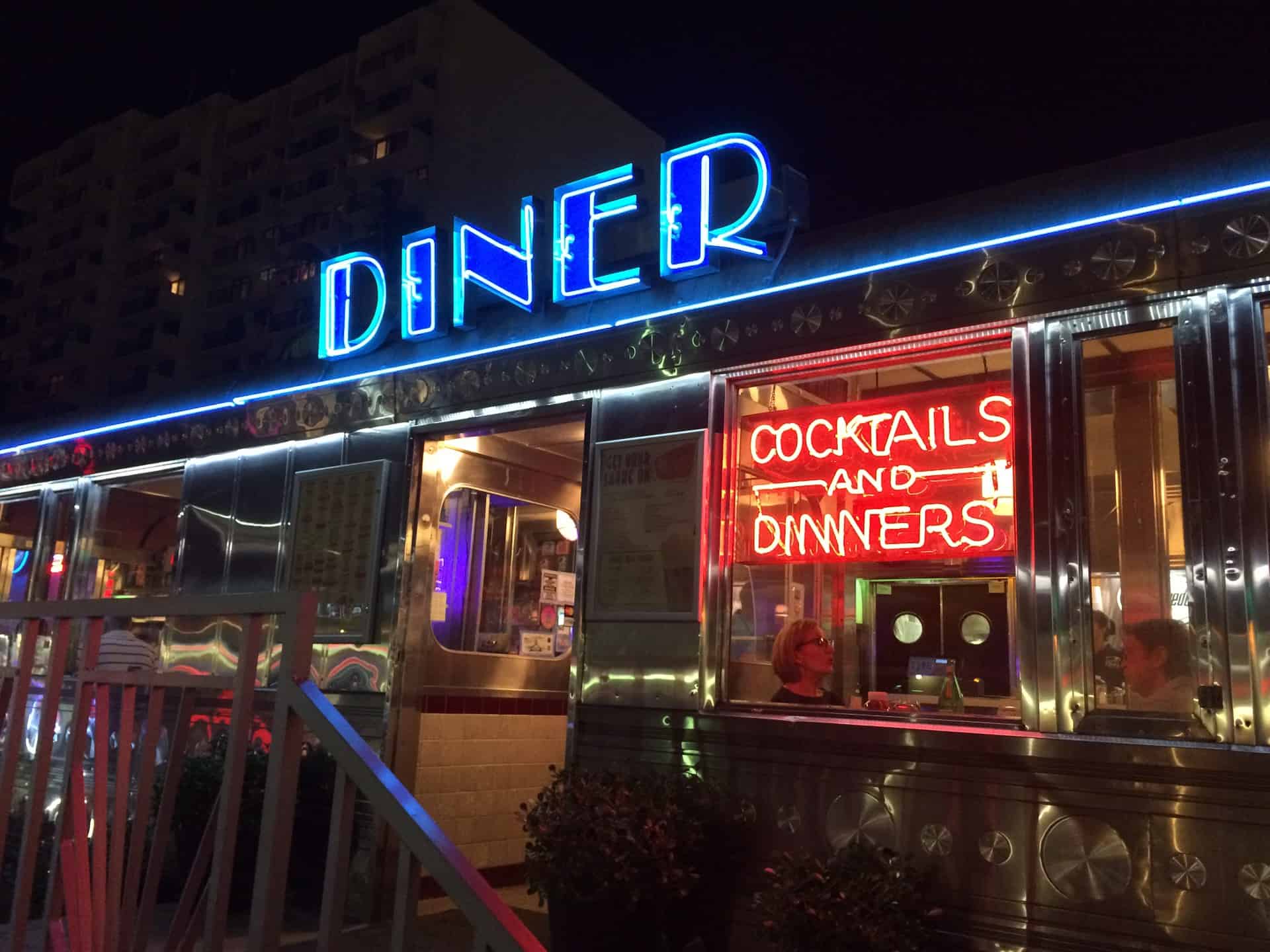 But how could she resist the siren song of the stainless steel, especially a rare Paramount Diner, so similar in style to her neighbor the Vale-Rio? Both were built in Haledon New Jersey by Paramount, both in 1948, and both served the people of Pennsylvania for decades.
Known originally as Handley's Diner, then later the Olympic Diner, the fate of this Paramount diner from Wilkes Barre is a lot happier than its cousin in Phoenixville, PA.
It served the folks of Wilkes Barre well until the early 1990s, when it was disassembled and moved to Miami, reopening in 1992. Perhaps it wanted to retire to warmer climate after all those years in Pennsylvania? Can't say I disagree with that idea!
The diner has been restored inside, including the adjacent dining room original to the diner. And since this is Miami, there's an outdoor seating area as well, with a full bar!
We opted to sit inside the diner, under the neon glow. Retro Roadhusband enjoyed his cheeseburger and I was happy with my bowl of black beans and rice, a nod to the Cuban cuisine popular here in Miami. We loved the fact that there were many international visitors who were getting the experience of dining in an authentic vintage diner while they were visiting the US!
When I expressed my enthusiasm for the diner to our server, he showed us where there were photos on display of the diner being moved to its current location.
We left with an 11th Street Diner mug as a souvenir, full bellies and smiles on our faces!
Art Deco Dining at The 11th Street Diner – Miami Beach FL
1065 Washington Ave, Miami Beach, FL 33139