SOLD!
UPDATE: April 2017 – Philadelphia attorney Tom Kline is the new owner of the vintage diner, which has been hauled out of Phoenixville. Thank you Mr. Kline for saving it! Details here. http://6abc.com/news/rare-vintage-diner-moves-to-new-home-after-restoration/1840642/
January 1, 2017 – a good way to start the new year! Mod Betty has been informed that the diner has been sold to a private buyer.Details will be forthcoming once I get them, but here's what I know now:
Private individual buyer

Will be moving out of Phoenixville

Not planning on opening it as a diner 
While it will leave the town and won't be opening up as a diner, at least we can wipe the sweat off our collective brow that it will at least not end up in a landfill. Phew!
A classic stainless steel vintage diner in Phoenixville Pennsylvania is on the market (again) with the hopes that it will find its forever home instead of demolition.
60 years after it opened in 1948, the Vale-Rio diner was closed to make way for a chain drugstore. The diner was moved to 27 Nutt Road in Phoenixville, the location of Francis J. Puleo's realty office, where it has been stored since 2008.
Puleo says that while the diner has been offered for sale before, he's now willing to sell the diner for $30,000.
He's also willing to help finance for the right buyer, as well as provide a list of trucking companies able to move the diner.
While this price is almost 85% less than its 2010 eBay offering price of $225,000, Puleo says that now he is simply hoping to get the money out of the diner that he put into moving it, and to get it off of his property within the next few months.
"I'd love to see it sold to someone who could re-open it, but at this point, if I am not able to find a buyer soon, I may have to scrap it." Puleo reports.
Built by the Paramount Dining Car company of Haledon New Jersey, the Vale-Rio was located at the intersection of Bridge Street and Nutt Road.  Its unusual name was a play on the original owner's last name of Valerio.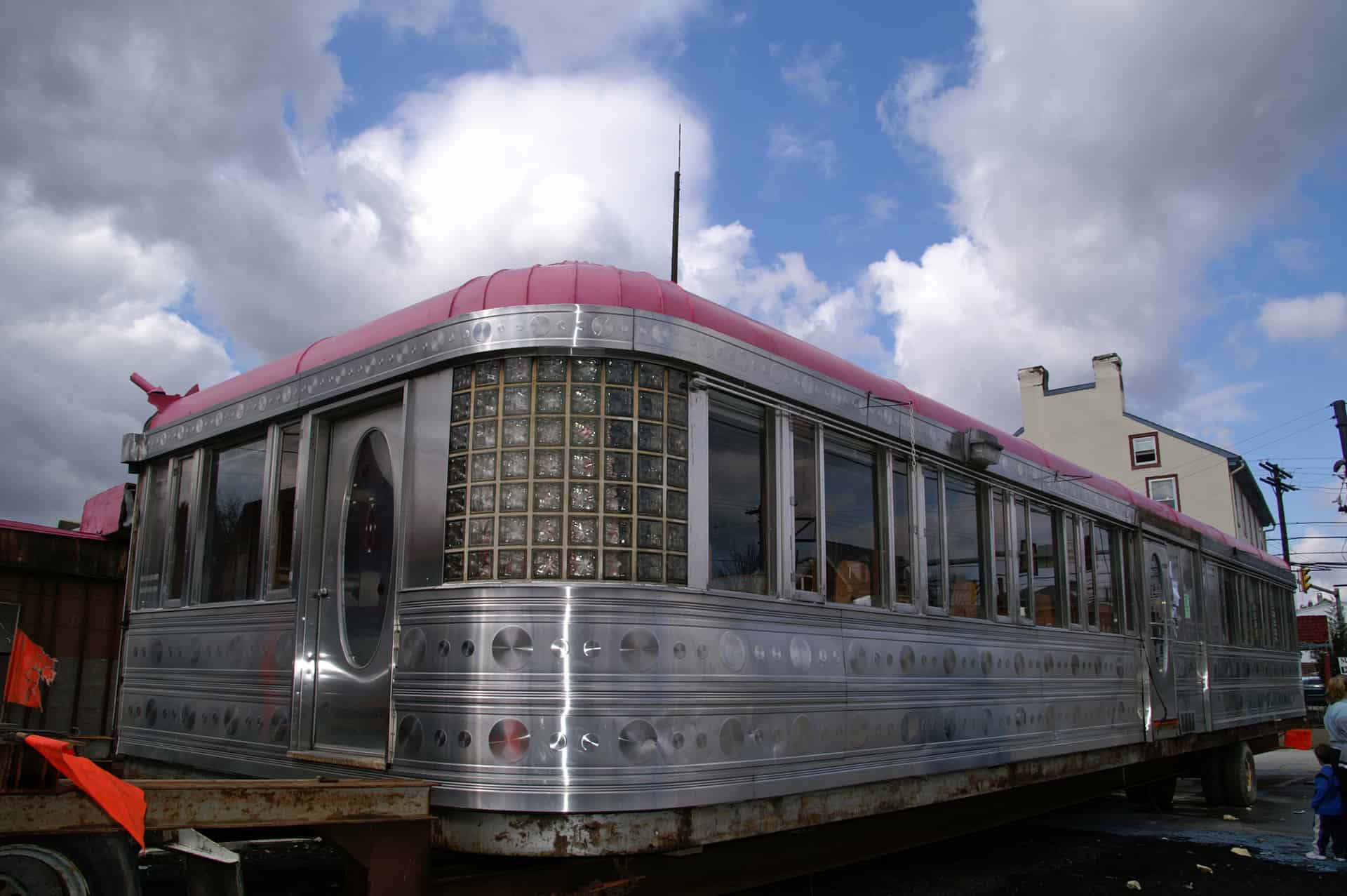 The diner is one of only 4 remaining Paramount diners with rounded glass block corners and the distinctive round disc shape pressed into the stainless steel exterior skin of the diner. The others are the 11th Street Diner in Miami Beach FL,West Bay Diner in Grand Marais MI, and the sadly closed Comet Diner in Hartford, CT.
With seating for approximately 90 guests, the formica counter, swivel stools, booths and tile floor are intact, and the menu boards above the stainless backsplashes still advertise daily specials.
Also included in the sale of the diner are some interesting artifacts from the diner's history, including the large double-sided diner sign on display at the diner.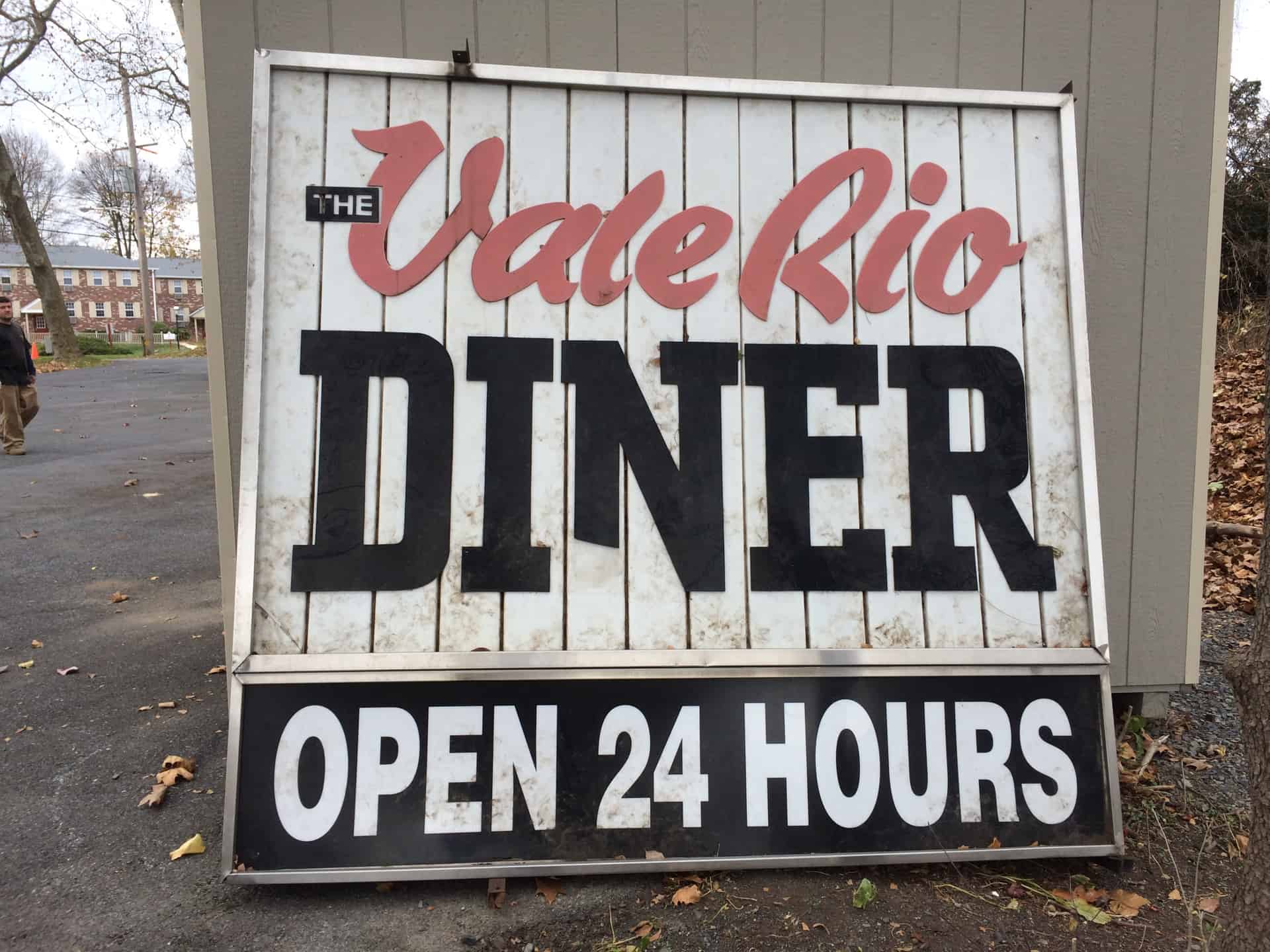 Also, while it is not in usable condition because of the newer accessibility laws, the original stainless steel vestibule entrance will be included.
Lastly, while it is currently in storage, Puleo has promised that the original diner clock advertising Paramount Dining Cars that once hung above the counter, is included in the diner sale.
If you or someone you know is interested in purchasing the diner can call Francis Puleo directly at 610-715-1547.
And don't forget to let him know you heard about it on Retro Roadmap.
I'd love to be able to help give this once shiny diner a new lease on life!