Heading to Massachusetts and excited to visit  as many of my fave Retro Roadmappy places as I could, the first thing I realized was, "Dang! That's a lot of eating!"
Luckily I was able to call on Larry Cultrera of Diner Hotline to chronicle some of the many fine diners in my home state. He's more qualified to make a Top 10 Diners of Mass list than I am at this point,  since I've been away from the Bay State for longer than I think I have!
Thank you Larry, for your info and images, your hospitality in showing me your great dinerabilia collection (this man is a wealth of diner knowledge, I tell you!) and also from saving me from having to eat 10 additional meals when I was back home!
You will hear about many of the things I did eat in upcoming posts, but for now I bring you…
(The above title is linked to Larry's complete and insightful commentary about each fab diner on the list-  Below I have edited for space and added my own 2 cents -when I actually had 2 cents to add!)
Capitol Diner
431 Union Street
Lynn, MA 01901
(781) 595-9314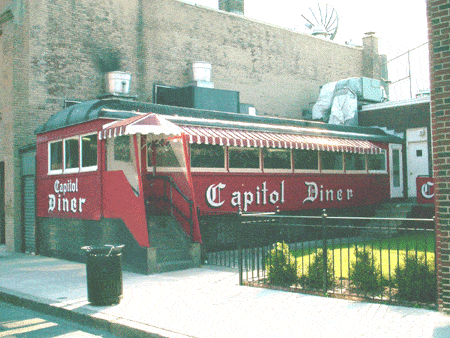 Diner Hotline:  The Capitol Diner in Lynn will always be at the top of any diner list in my book!The Capitol is everything a diner should be. If you are a regular customer, it is basically like sitting in a friend's kitchen and having a great meal. If you are a first time visitor, you will immediately feel welcome and part of the family.
Betty adds: The Capitol is also up there on my list, for it's friendly folks, good food and bucolic setting in the middle of downtown Lynn- a wonderful patch of color in such an urban setting. Love the corned beef hash and eggs!
Rosebud Diner ( So sad to report, totally remuddled 2014)
81 Summer St
Somerville, MA 02144
(617) 666-6015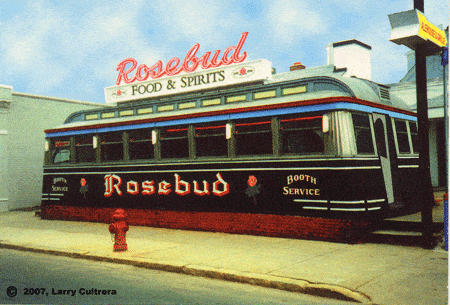 Diner Hotline: The Nichols family has owned the Rosebud Diner since the late 1950's. With the diner's reopening in the mid-1990's  it has been reborn as slightly more upscale than the local neighborhood diner offering breakfast, lunch and dinner along with a full liquor license.
Betty notes: I would lunch here often when I worked just over the line in Porter Square Cambridge, the steak tips and salad being a fave. As Larry notes, a bit more upscale than your average diner, but wonderful to see this striking looking diner in fine form.
Shawmut Diner (so sad to report, closed 2014)
943 Shawmut Ave
New Bedford, MA 02746
(508) 993-3073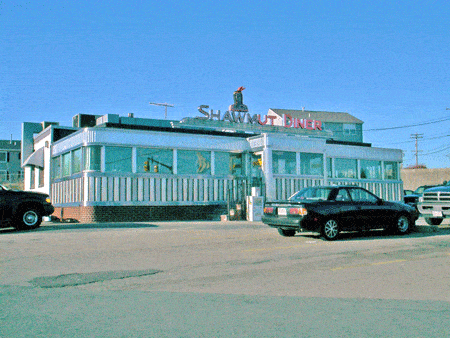 Diner Hotline: Owned and operated by Phil & Celeste Paleologos since the early 1980's, the Shawmut Diner stands out not only for good food and friendly, fast service, but you cannot ever leave there without a smile on your face, especially if Phil is on the premises. If you are ever in the Southeastern Massachusetts area stop in to the Shawmut, you'll never be disappointed!
Betty chimes in: It's TRUE! My sis and I ate lunch here with the Retro Roadkids and not only were we welcomed warmly by Phil, but he absolutely charmed the kids with his friendly talk and smiles. I loved how clean and well kept  the place was, and we all enjoyed our food. Some of my photos from our visit:
Salem Diner
70 Loring Avenue
Salem, MA 01970
(978) 741-7918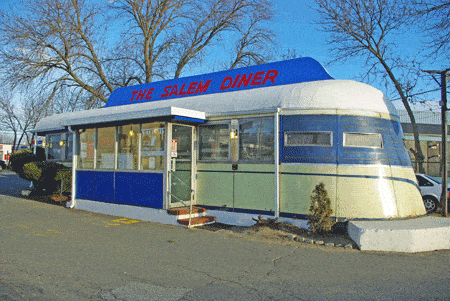 Diner Hotline: The Salem Diner is one of only 2 "Sterling Streamliner" diners still operating. The other is the Modern Diner of Pawtucket, RI. The diner was sort of a little down at the heels a couple of years ago until the current owners George and Zoe Elefteriadis bought the diner in late 2007, they revamped the diner by cleaning it up, re-doing the booths, tile floor and counter apron. It made a big difference. It also didn't hurt that they provide some great meals & friendly service which my wife Denise really appreciates. It has certainly risen to be one of our regular stops.
Tim's Diner
14 Water Street
Leominster, MA 01453
(978) 537-6868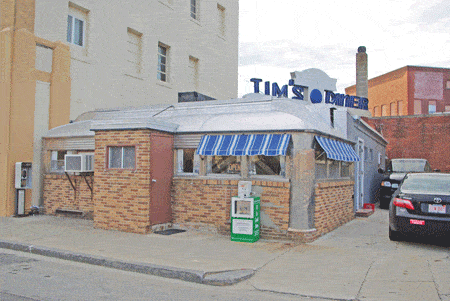 Diner Hotline: What can I say about Tim's Diner? Let's see:
(1) it is possibly the smallest diner ever built by Silk City Diners (Paterson Vehicle Company)
(2) you can get a really great breakfast there (I never had lunch there, but I'm sure it is just as good)!
(3)  Tim and his staff are always friendly (I'm seeing a pattern here on this list).
I'm sure there are other reasons I love Tim's Diner but most of all because it is there! Originally operated as Roy's Diner, Tim's dad (the original Tim) took over the operation sometime in the 1950's (I believe) and the rest they say, is history! I know I am always looking forward to the next trip out to Leominster to eat at Tim's!
Betty notes: I tried my best to get to Tim's during my visit, but a finicky GPS and a rainy day were my downfall. Next time for sure!
Blanchard's 101 Diner
322 Cambridge Street
Worcester, MA 01603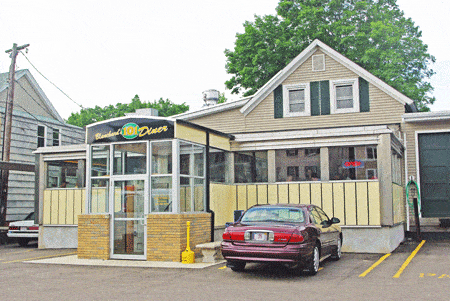 Diner Hotline: Blanchard's 101 Diner is the newest old diner in Worcester as it remained in unfinished condition and in storage for over 40 years. Since Chris and Matt Blanchard finished the construction of the diner and opened it, it has now become my go-to place for breakfast in Worcester! As much as I like the Boulevard Diner or the Parkway Diner or even the Miss Worcester Diner, I always end up at Blanchard's! Great people, great service, great food! Enough said!
Betty admits: Another diner visit thwarted by the rain and GPS, Larry's recommendation has pushed this diner to the top of my go-to list!
Agawam Diner
166 Newburyport Turnpike (U.S. Rte. 1)
Rowley, MA 01969
(978) 948-7780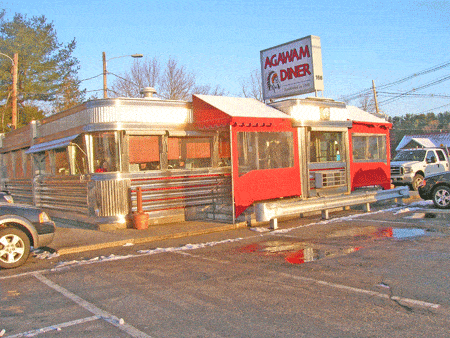 Diner Hotline: The Agawam Diner, just say those words to anyone who is familiar with the place and you will almost always hear…. Oh, I love their creme pies! My personal favorite is the Coconut Creme Pie but I am sure any of the other pies they bake daily are just as scrumptious! This diner has been run by the Galanis family from day one.This place does a tremendous business, especially on the weekends when you can usually see a line waiting to get inside this stainless steel beauty. The prices for their meals recently were increased slightly but are still quite reasonable compared to some other places.
Betty sez: I drove past this place on my back from the Clam Box in Ipswich, and I wondered if my belly could hold  a slice of pie along with the delish clams I had just consumed. Probably wise for my long drive home that I did not choose to overstuff myself, I was delighted to see the Agawam's parking lot packed with cars.
Fish Tale Diner (so sad to report, closed 2012)
420 Bridge Rd
Salisbury, MA 01952
(978) 465-1674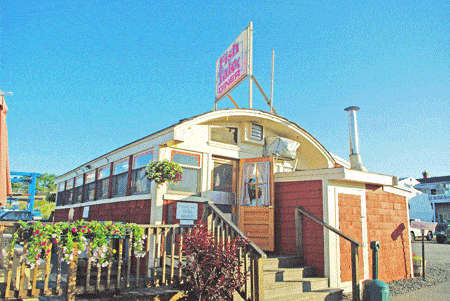 Diner Hotline: The Fish Tale Diner has been located in Salisbury since the early 1970's. After it got to it's current location, the old bright red porcelain enameled steel panels were replaced with weathered shingles that sort of makes the diner fit in next to the marina it is adjacent to, hard by the banks of the Merrimac River overlooking Newburyport. The current owners have installed a deck out front for expanded seating in the good weather. It is quite possibly one of the nicest locations of any diner I know.
Betty muses: Who could resist visiting a diner on a sunny day and getting to sit outside on the water. Sounds like a dream date to me!
Portside Diner
2 River St
Danvers, MA 01923
(978) 777-1437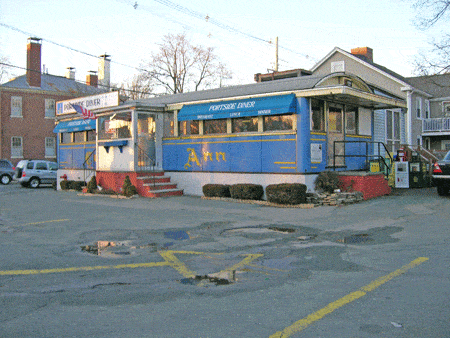 Diner Hotline: I will always have a soft spot in my heart for the Portside Diner, mainly because it is virtually the identical twin to the Star Lite Diner I used to go to in Medford, the town I grew up in. Anyway, the Portside offers breakfast, lunch and dinner, 6 days a week with breakfast only on Sundays. Their menu features basic diner food with daily specials at reasonable prices.
Four Sister's Owl Diner
244 Appleton Street
Lowell, MA 01852
(978) 453-8321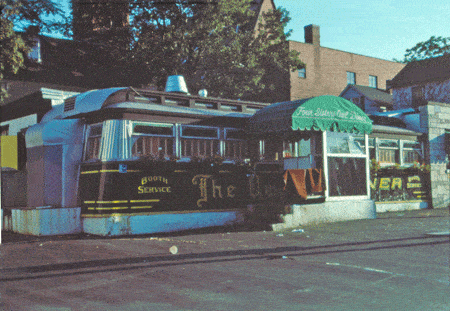 Diner Hotline: The Owl Diner  is another diner that packs them in on the weekend!  In fact they have added a large entryway that when finished will double as a waiting area with seats. They give you a lot of food for your buck and it's always good! Operated by the Shanahan family since the early 1980's.
Betty concludes: I am one of 3 sisters, but this place needs 4 of them to keep up with the hoppin business. You go, girls!