Mod Betty is SO so sad to report that Allee Wills passed away unexpectedly on Christmas eve 2019. I will never forget that she told me I had "balls" to ask to meet her when we visited California years ago, and was thrilled when she realized I was a legit geek and let me / us into her home, giving us a tour of every nook and cranny. She was such a creative collector, and inspiration in so many ways, and every time we hear one of her songs we think of her. <3 I always think of her when I put on lipstick, she reminded me to do that before every photo, and this was the trip where she and Charles Phoenix insisted that I should be in front of the camera with Retro Roadmap instead of hiding behind it. Rest in Peace Allee <3 
Original 2012 Post:
In less than 2 weeks Mod Betty and Retro Roadhusband are heading back to Los Angeles California!
Yes, we just were there in May, but while we were out there, we met up with songwriter / artist / party hostess / kitsch collector extraordinaire Allee Willis, and were so inspired by her enthusiasm, attitude and fab home that we're seeing her live show "Badeya, Baby!" on the 21st day of September. I can't wait!
Wait. You don't know who Allee Willis is?

Horrors, says Allee – lets fix that!
She's done so much that I might as well let this little bit of her bio give you an idea:
Willis is a GRAMMY®, Emmy, Tony and Webbie award-winning and nominated songwriter, artist, multimediaist, director, collector, and party thrower whose hit songs-including Earth, Wind & Fire's "September" and "Boogie Wonderland," The Pointer Sisters' "Neutron Dance," Pet Shop Boys with Dusty Springfield's "What Have I Done To Deserve This," and The Rembrandts' "I'll Be There For You (Theme From Friends)"-have sold more than 50 million records.
Had I read her bio in detail before I contacted Allee I would have been waaay too intimidated by all that and never emailed her about our visit. You know me- I can barely make a phone call!
I know her mainly as the fun and friendly "keeper of the Kitsch" at her Allee Willis Museum of Kitsch where I've uploaded photos of some of my fun thrift finds online,  so I thought I'd drop her a line to say we'd be in the neighborhood, and would she like to meet up.
She was kind enough to take time out of her busy schedule to meet with us and we're so glad she did! We had a postively inspiring visit  with her at the real museum of kitsch, her home (that looks an awful lot like the illustration below.)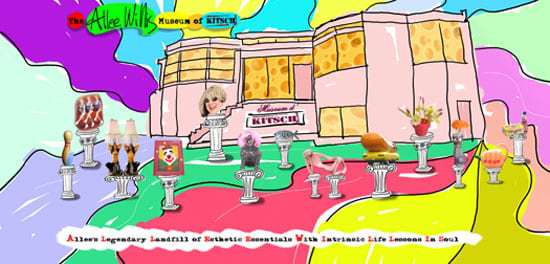 (It's not open to the public – c'mon, it's her home! But she was gracious enough to allow me to snap some photos of her mad mod pad  and her over the top collections, to share with you all.)

Her home was built in 1937 as a getaway / party house for the folks at Paramount Pictures. Love that pink stucco! And didn't I tell you it looked like the virtual Museum of Kitsch? You can see what's going on in almost every room in the house through those lovely light filled windows.
I'm not the only one smitten –  Allee and her pink palace has been featured in many writeups including The New York Times – check out their photos here!
Here's the outside bar that she created from an old car grille, displayed under one of the largest neon signs in the area.
And those round plastic lights covered with colored plastic chunks that I love so much? She rewired hers so they can be used outdoors. I can't guarantee, but I bet that old washing machine would make a great cooler for drinks at an outdoor party. Inspiration Alert! Love her use of regular items in surprising ways.
The inside of her home is just as fun and funky as the outside is! Here's her living room, replete with plastic covered shag furniture, plastic flower filled ottomans (ottomen?) and more mod purple furniture than you could shake a stick at.
When we were sitting here in her living room we chatted about her early years as a songwriter, and later, where stage fright kept her from performing in public for years. Luckily that didn't keep her from writing songs, collecting kitsch, throwing parties, and feeding her creative soul.
Inspiration Alert!
Last fall, after 35+ years of not being on the stage Allee decided that her fear would not going to rule her any more, so she made what she hoped to be her triumphant return to performing.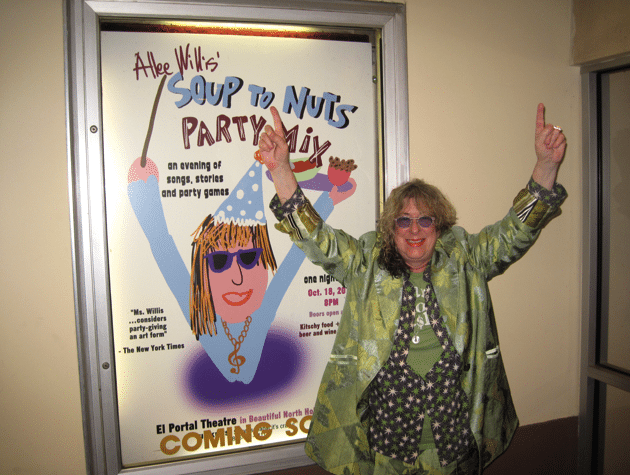 But it was not to be, as there were malfunctions and gaffes that would challenge even the most seasoned veteran. But she was determined to make it through the entire show, and got through it with humor and style.
Inspiration alert – she learned from the problems of her first show, and had a second show, which WAS her Triumphant Return To The Stage– yay!
And as Allee would say, "From lemons come the best lemonade."  Indeed.
Speaking of lemonade lets head into the kitchen, filled with – kistch!
I thought this nook reminded me of the kitchen in Pee Wee's Big Adventure, which is one of my fave movies of all time:
(Big Goofy Aside  and Inspirational Touchstone Alert – I have been a huge Pee Wee fan since the 80s, and I have always said my 2  home decorating inspirations are f Pee Wee's house and the Monkees' beach house.  Then when doing research to write this I see these photos, and read that Allee participated in the set and furniture design of Pee-wee's Playhouse. CRAZY! And now I'm adding her home to my list of inspirations!)
Speaking of PW, if you are a fan of Pee Wee's Christmas Special  then you may have learned about the Del Rubio Triplets from their appearance on the show, like I did. And do you remember back last year when I asked you all to send a valentine to Millie, the last remaining Del Rubio Triplet? Well not only were the triplets discovered by Allee, she was the swell person who came up with the idea to inundate Millie with the valentines. Too many kismet moments to count on one hand, IMHO.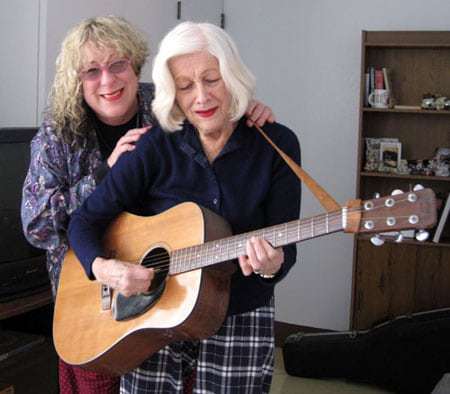 From the kitsch-filled-kitchen we headed downstairs to lower level – and who doesn't love inlaid linoleum tiles like these? Nom!
Downstairs is even more of a pop culture explosion, all lined in knotty pine and anchored by some more wonderful inlaid linoleum flooring, this time inspired by the sea.
For every piece of vintage pop culture memorabilia I may have in my collection, Allee has 1000. Anytime I saw something I had – like this Laugh In trash can – I felt an affirmation that I was on the right path to kitsch-nirvana!
While Allee loves kitsch of all kinds, she has a special place in her heart and "Willis Mansion" for African American pop culture artifacts, and was inspired to start her collection – now one of the largest in the world – by none other than THE James Brown, who Allee worked with.
I of course, with the last name Lennon, was super psyched to see the very same Lennon Sisters paper dolls that I have at home, and was swooning over the Beatles stockings and canvas sneakers – complete in original box! Retro Roadhusband was pretty inspired too.
And speaking of inspired, there's evidence of her creativity everwhere in the house.
When for example, she needed a handle for a sliding door, would she just head down to the Home Depot and buy something off the rack? Nay!
She'd use a vintage ballroom dancing trophy instead!
Or when the soap dish in her vintage pink tiled bathroom was broken, did she let that jam her up? Nope! She just replaced it with a giant seashell!
Trophies used as door pulls, car door pulls used as DRAWER PULLS. Bowling balls used as lawn ornaments  – Inspiration Alert – learn to see the unexpected potential in everything!
You can imagine, after seeing all this and  learning some valueable life lessons from Allee, that Retro Roadhusband and I had to sit silently in the car for quite a while before we could even drive, as our brains had been expanded and exploded like bowling balls in the summer sun.
As soon as we recovered we knew we had to make our way back to L.A.  to  see Allee's "Badeya, Baby!" live show in September. to not only show our support, but to have a good time ourselves. The energy, enthusiasm and joie de vivre we felt was positively infectious, kinda like this song!
Badeya!