Mod Betty can't be everywhere to show folks the cool vintage places, but if you're in Nashville Walkin' Nashville is the kind of  guided tour that is right up our Retro Roadmap alley! (Or should I say Printer's Alley, since that's included in the tour?!)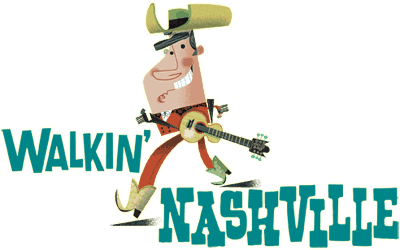 The Music City Legends Tour offered by our pal and expert guide Bill DeMain (or as I like to call him Bill "TheMan" 🙂) highlights many of the places that we love to visit when we're visiting Nashville.
(It was actually kinda funny during our last trip – Retro Roadhusband and I were doing some tourist sight-seeing and kept crossing paths with Bill's tour, at places like:)
The Arcade –  it doesn't have pinball machines but it does have:
An Art Deco Post Office
A Peanut Shop:
And you'll learn a lot about the history of music first hand! You see, Bill is an accomplished songwriter and musician himself, so he knows the important places to show to people in this hotbed of musical activity.
Why, he's even written songs with Retro Roadhusband!
You'll learn all about the Ryman Auditorium and how it almost didn't survive:
And learn about Ernest Tubb's Record shop, one of the last bastions of authentic Nashville on Broadway.
There are a bunch of other interesting places he'll bring you on your tour, so you'll learn a lot in a short amount of time.
So when you're visiting the quickly changing city of Nashville, make sure you get in touch with NashBill (as I just mistyped and LOLed at) to take his tour, and tell him Mod Betty sent you!
http://www.walkinnashville.com/
NOTE: This is not a paid advertisement or anything like that, I was just super thrilled to learn that Bill did these tours and they're so in line with the spirit of Retro Roadmap!