Mod Betty has always had a soft spot for Route 1 in Saugus Massachusetts, ever since she discovered it many years ago. The lights! The Signs! The Over The Top Architecture! To her- heaven.
So many of these places are not here anymore, or are a shell of their former self, but they live on in her snapshots:


HOWEVER! There are still a few icons from the golden days of Saugus's Route 1 that still exist for you to visit, and I suggest you do, before they've sadly all disappeared from the roadside landscape! Here's how we enjoyed Route 1 Saugus recently, as inspiration!
Mod Betty's Retro Roadmap
Route 1 Saugus Fun Tour Tips!
I knew it was going to be a good day when I pulled into the parking lot of our first stop and there, almost waiting for me was an aqua Vintage Car! I quickly parked and raced over to let the owners (Keith LeBlanc and his wife Carol)  know how much I loved the car (a 1955 Chevy Belair) and was thrilled when they offered to let me pose in and with it.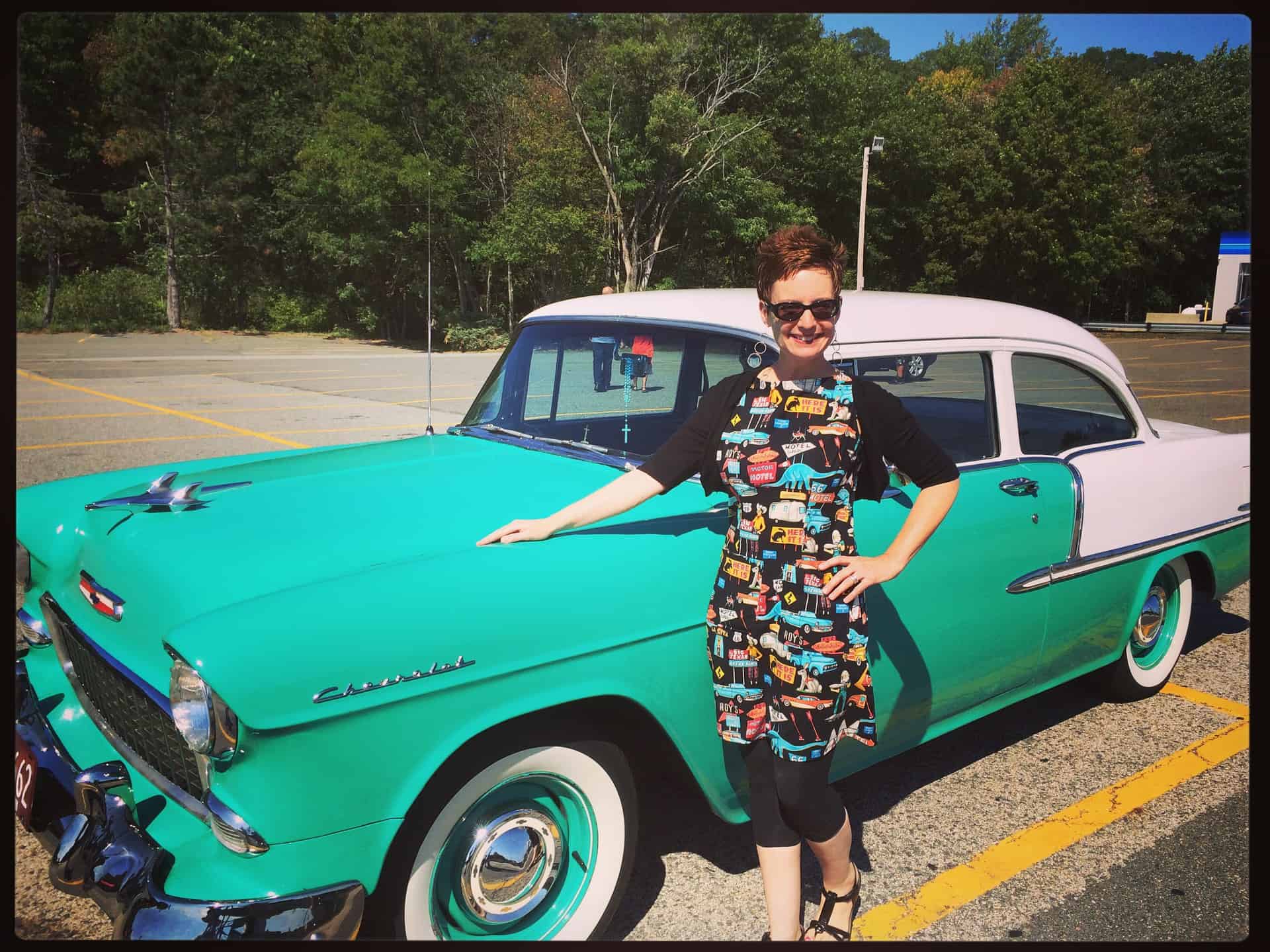 Our first stop was
or as I like to call it "The Prince Spaghetti House" or "Leaning Tower of PIZZA" (see what I did there? ;-))
This is a great spot for groups to eat, because everyone orders what they like at the counter and pays, then your food is delivered to your table. No hostess-stress!
With a tasty Italian meal under our belts, we went on our pilgrimage to play (what we thought would be) one last round of miniature golf at the Route 1 Miniature Golf, and say goodbye to the big orange dinosaur. 2016 update to note they will be open for 1 more season but after that, being destroyed for condos. Blah!
On the way south on Route 1 we passed the sad lonely cactus that is all that remains of the Hilltop Steak House. Just another reminder of the things we love so quickly vanishing.
We all pulled up, "Swingers-like" into the parking lot and it was a bit like herding kittens because there's so much fun stuff to do there – let's play golf! Get ice cream! Batting cages! Video games!

We did all gather on the "links" to play 18 holes. Some folks were quite serious about their putting:


While others had a bit of silly fun!


One pal even got a Hole in ONE!


We posed for a celebratory snapshot, then went off to toast the day.


In my mind the only place on Route 1 in Saugus to go to raise a toast to – well anything – is

The parking lot was packed, so I know I'm not the only one with great taste for classic "Boston style" Chinese food and Mai-tais, in an over the top since 1950 setting.
Gathered around a big table just outside of the "schooner" inside the restaurant, we ordered up all sorts of greasy tasty delights, and folks were kind enough to raise their tiki mugs to yours truly for planning such a fun event!
After some good fun, and good friends, we all said our goodbyes and parted ways….
BUT!
"Auntie" Mod Betty had one more Route 1 Destination up her sleeve! While Retro Roadsis wanted no part of it, the Retro Roadkids were more than happy to go to Putnam Pantry for a sweet treat!
This is one of Mod Betty's fave places, as they have that New England delicacy – Penuche Sauce!
(Upon closer inspection, she's not the only Betty who likes Putnam Pantry – here's BETTY WHITE visiting Putnam Pantry back in the day!)


Mod Betty wants to be remembered as a good auntie, so she let everyone (herself included) get a 2 scoop "make your own" sundae. In all the years she's been going there, she's never indulged in 2 scoops (SO New England of her), but life is short!

And while she had to drive the Retro Roadmobile (instead of that cool vintage car) past so many big and boring chain stores on the way home, in her mind she was driving that cool vintage car down route 1, past all of the icons that are now long gone.
So, if you're in the Saugus area take your own Retro Tour of Route 1, before it's gone for good!