Mod Betty isn't much of a cook, but once a year she's all about the Fluff.  You see, she's a Massachusetts gal, so many a holiday season she makes Never Fail Fudge and Marshmallow Treats from this locally made marshmallow creme creation.
Heck, her recipes even come from the Fluff Yummy Book that she sent away for years ago!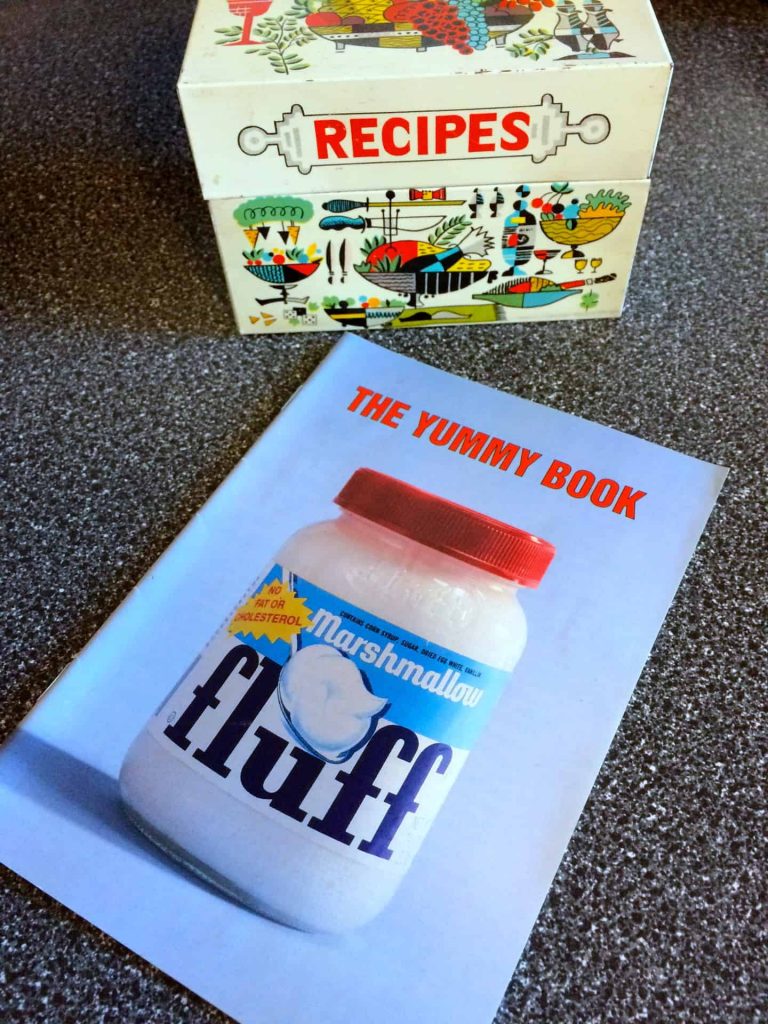 Since this is the time of year for sharing and sweet things, I thought this was the perfect opportunity to share my fondness for this locally made treat!
HISTORY OF FLUFF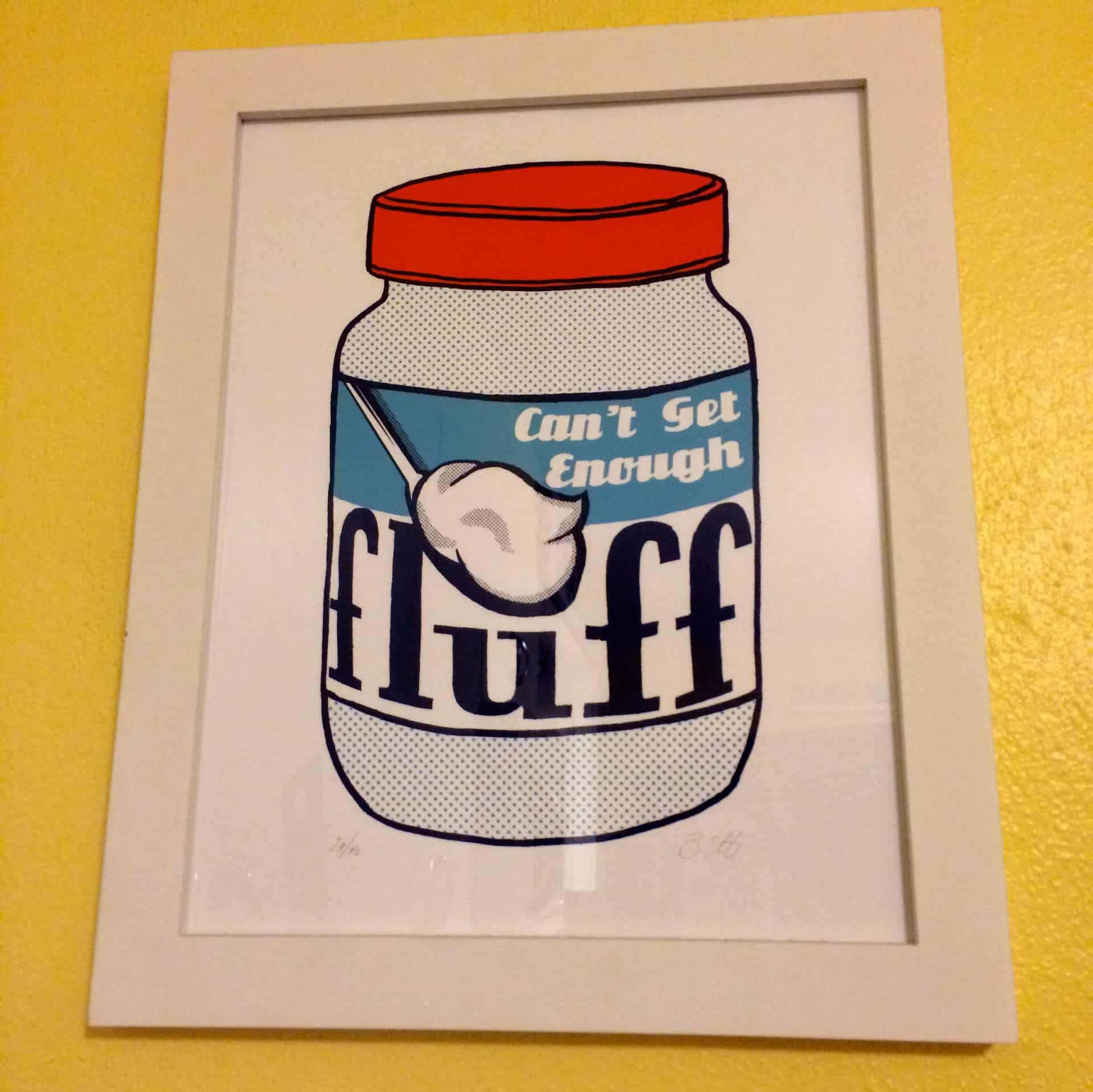 According to the Marshmallow Fluff website, Fluff has been made in Lynn, Massachusetts (about 10 miles north of Boston) by the Durkee-Mower company, since 1920. The company was started by H. Allen Durkee and Fred L. Mower, friends and World War 1 veterans, who purchased the recipe for Marshmallow Fluff from Archibald Query of Somerville (Fun Aside: Somerville celebrates Query's invention of the sticky sweet stuff with their annual What The Fluff? Festival in Union Square.)
Still family owned, the company makes Fluff and only Fluff, with over 50% of their product being sold in the New England states, or to ex-pats like me, who are happy to see the familiar blue and white packaging on our grocery store shelves.
FLUFF RECIPES
As mentioned, for years the Durkee-Mower folks created a print Yummy Book (pictured above) but now all of the recipes are available online on their website.
One thing I was interested to learn via Facebook when making "Rice Krispie Treats" this season, is that some folks had never heard of making Rice Krispie / Marshmallow Treats with Fluff (!!) opting for marshmallows instead. The recipe is right here from my copy of the Yummy Book, if you want to try it: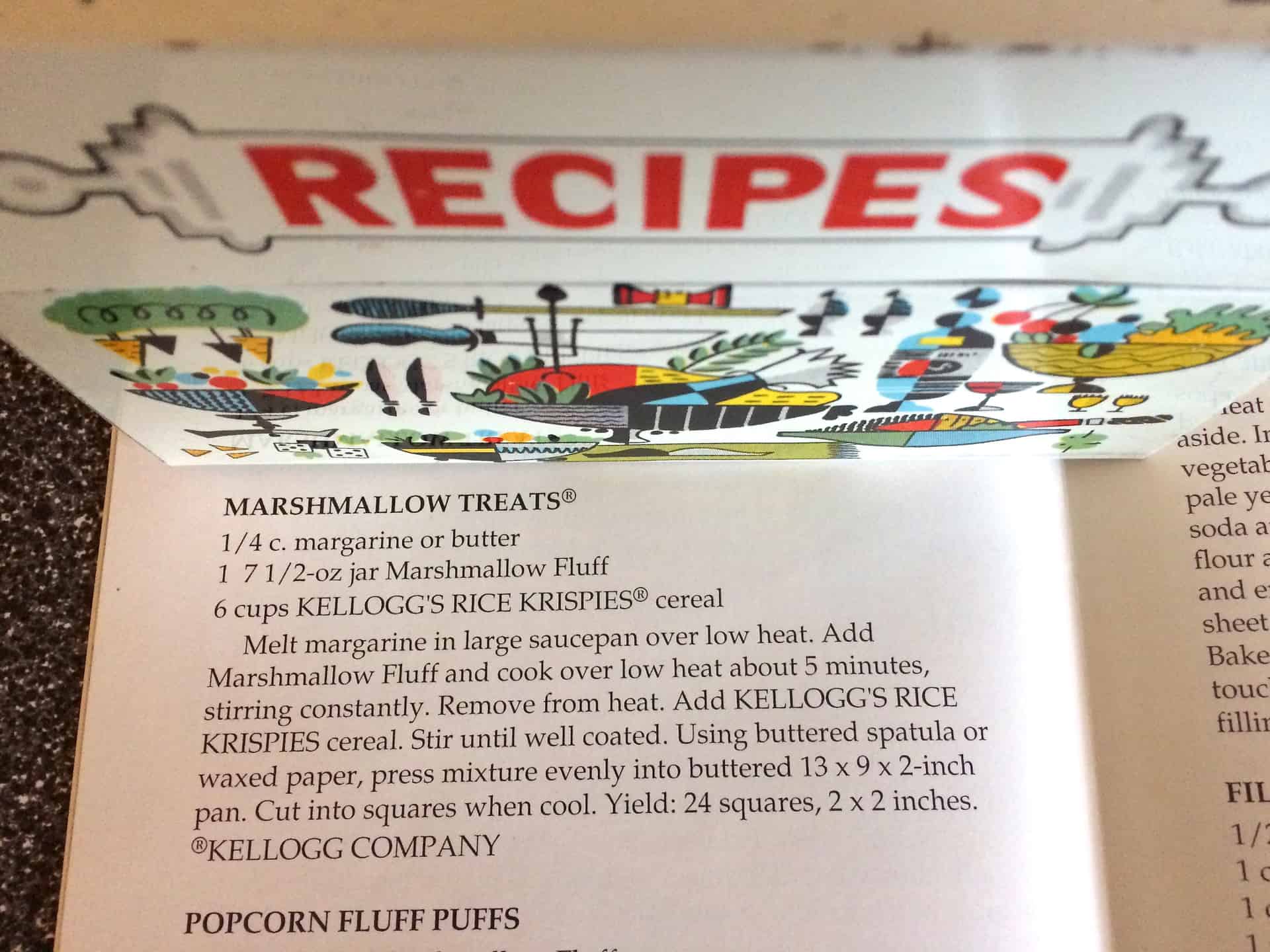 Some vegetarians were delighted to learn about the Fluff version of these fave treats (since marshmallows contain gelatin, and well…let's just say that isn't plant based!)
While Retro Roadhusband is not a New England guy he's always happy to make a Fluffernutter should there be any leftover Fluff from one of my recipes. You all know what a Fluffernutter is, I'm sure, but how could I not share this video to get the jingle stuck in your head?  🙂
And our fave pals at the Velveteen Lounge Kitsch-en know how to whip up a Fluff-filled appetizer AND a coordinating cocktail!
FLUFF INGREDIENTS
Fluff is still made from the same 4 basic ingredients as the original recipe: Sugar, Egg Whites, Corn Syrup
(not High Fructose Corn Syrup!) and Vanilla (now Vanillin, a vanilla substitute).
While it is Gluten Free, Cholesterol and Fat Free, not to mention Kosher, I was surprised to read on my most recent tub of Fluff the words "Partially Produced with Genetic Engineering". But not to fear!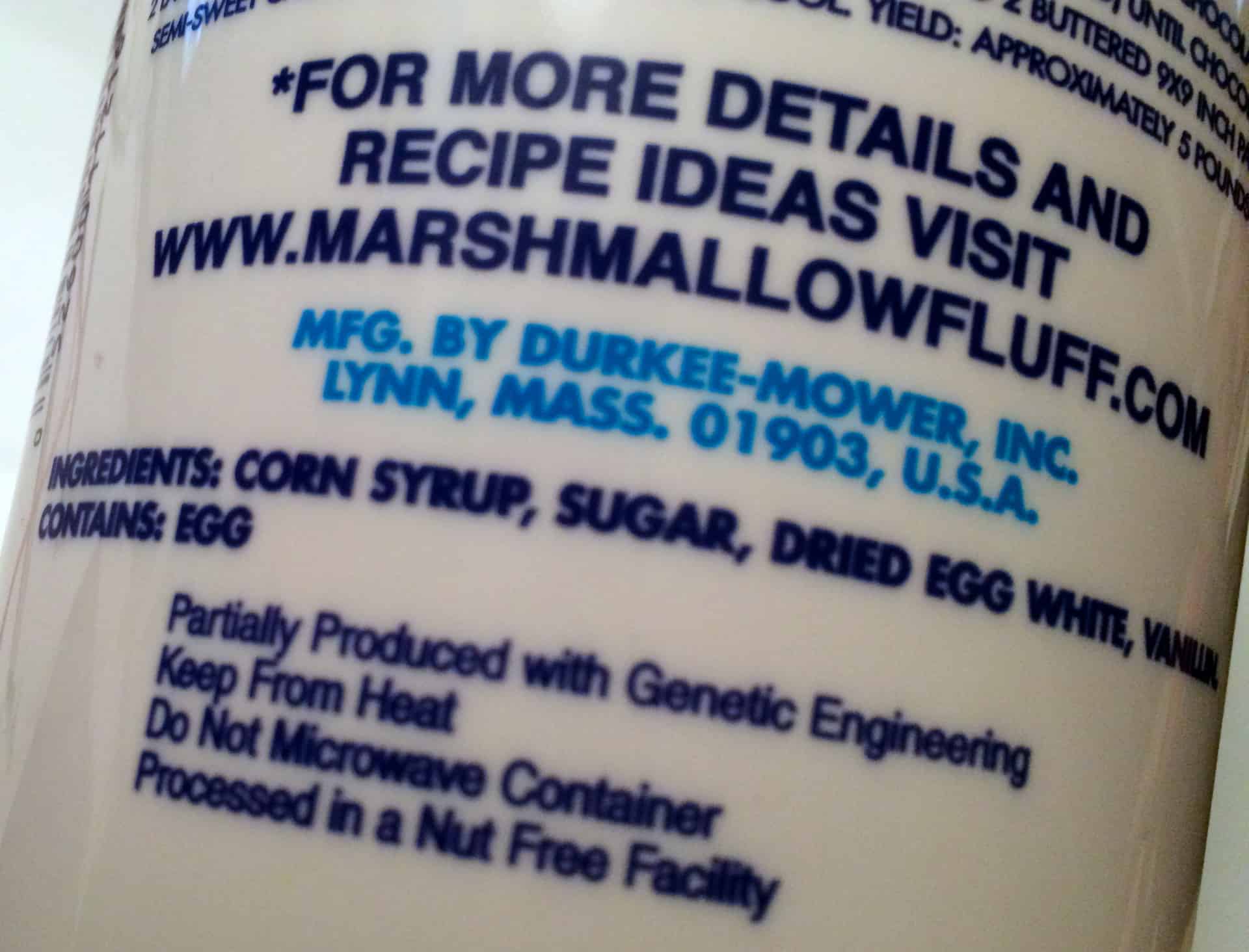 A quick phone call led me to a friendly chat with Paul Walker, the Vice-President of Manufacturing at Durkee-Mower for over 30 years. Since I could not find any info about this online, I figured I'd let you all know about it here, as not to have to call Paul yourself!
He explained to me that this label was because of their corn suppliers who, despite testing that has shown no traces of genetically engineered corn, could not guarantee that their all of their supply was GMO free. To be on the safe side for people concerned about this, and anticipating the Vermont GMO label law and possible future legislation they added this to their label.
FLUFF PACKAGING
One thing I love about Fluff is that long after the sticky stuff is scooped out, the jar or tub was designed to be easy to reuse. The embossing on either side of the jars makes it easy to grip and the 16 oz tubs have nice straight sides for easy filling and nice tight fitting red lids.
Mod Betty has plenty of Fluff jars in our basement, organizing nuts and screws, and other "randomness that might be useful some day.")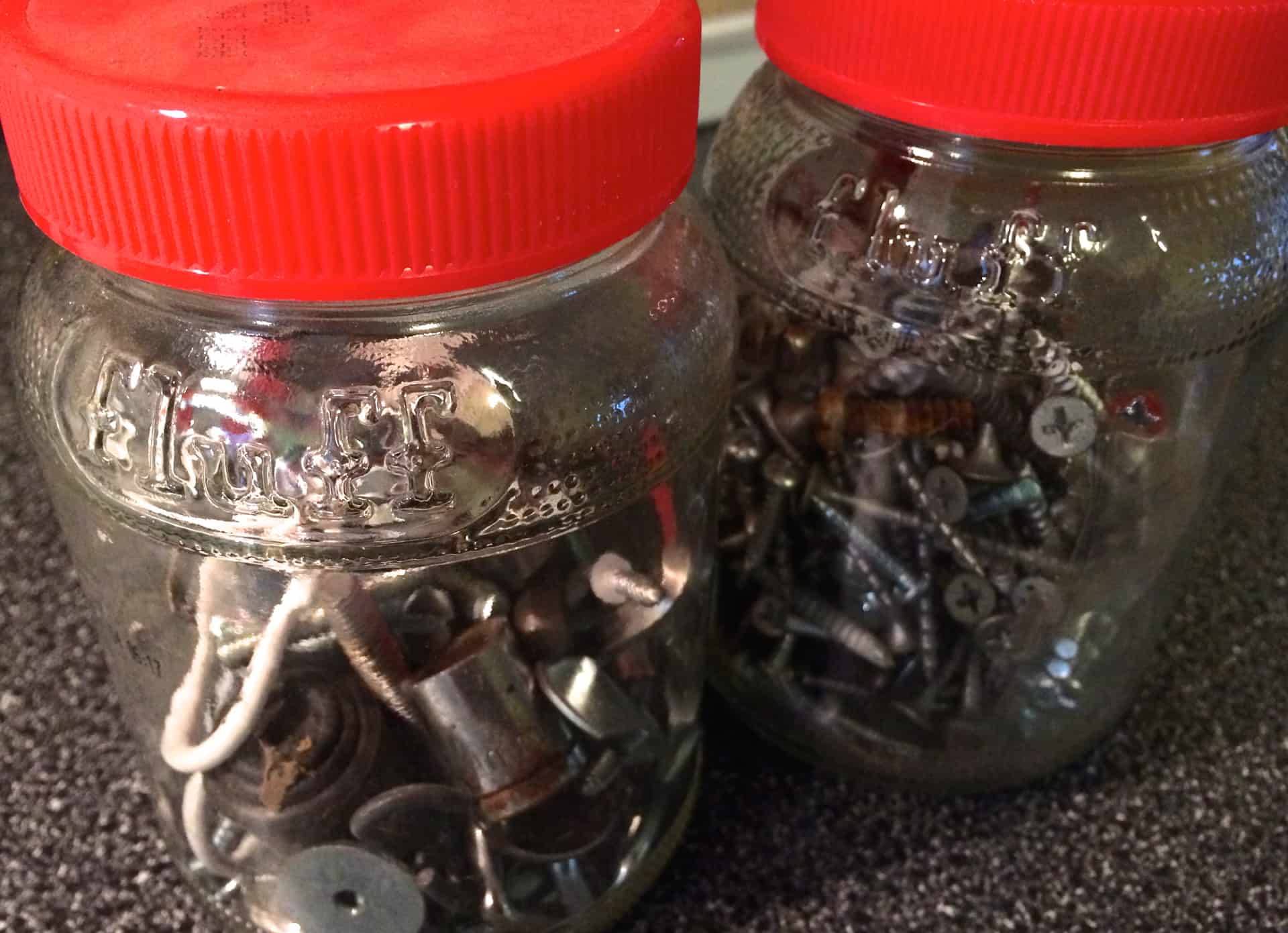 So there you have it!
Family owned, still made in the US from the original recipe, one half of the iconic Fluffernutter sandwich, and key ingredient for holiday treats every season for almost 100 years.
Find out where you can buy Fluff near you and mix up a batch of something tasty, Retro Roadmap style, just like Mod Betty!
(Disclaimer – this is not a sponsored post, just a sharing of a cool vintage product I think you all will enjoy)